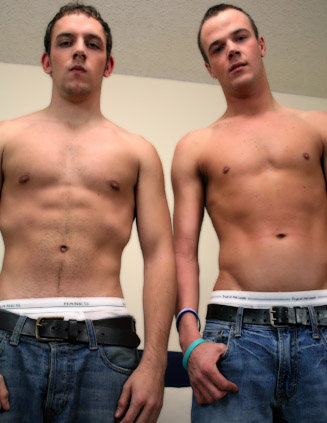 Both CJ and Austin have been to the studio many times before, but never together. It was a members choice shoot where we got a request to see the two of them together. Doing some scheduling I was able to get them both in at the same time in order to do a little something for the member who wanted to see Austin and CJ give oral to one another. After they both arrived to the studio I had them go into the shoot room, so that we could get started filming. I found out that CJ has been struck by a little bit of the fame that comes from doing as many shoots as he has done. A couple of different times he has been spotted in public and people have approached him. I guess this one girl said she gets turned on by watching the guy on guy action he does and wants to hook up with him sometime soon. CJ doesnt really give a shit of what other people think, so he just kind of does his own thing. He currently has been with his girlfriend for a year now, and said that their relationship is still strong. Moving over to Austin he recently went to one of the broke straight boy events and had a blast getting to meet some of the members. That was the event that Tyler another model with us filmed a bunch of the guys fooling around with one another.

I told Austin and CJ that I would pay them $800 for them to do oral, and then later on in the week have them come back to do an anal shoot. Also, I would be giving them a surprise in that shoot that I dont want to hint at. Out of curiosity I asked Austin if he had ever seen any of CJs videos, and he said only some pictures. The guys stood up to get undressed and as they stripped out of their clothes, first their shirts and then their pants. Right away it was obvious that CJ was rock hard and ready to go. Last to come off was their underwear, leaving them naked as we talked a little more. I asked Austin if at every club he goes to for the events they wrap a towel around their cocks and walk around. He said that each club is different in that some only their shirts can be off, others they can be in their underwear, and even some they can be completely naked. At the event that we were talking about they had to get completely naked and put on individual strip shows for the whole crowd. The guys took a seat back down on the couch, and I told CJ that he could go ahead in getting started.

As CJ moved to putting the cock in his mouth, Austin made a comment that in every shoot he does everyone always wants to suck his cock first. I explained to Austin that CJ always wants to go first in getting it out of the way so that he can enjoy head last. Austin said that CJ was doing a great job, and I told him that since the two of them are seasoned models here at Broke Straight Boys they do an awesome job. CJ used both his mouth and hand in order to give a blow job to Austin. To help keep CJ hard, Austin reached around with his hand and jerked CJ off so that he didnt loose his boner. After a while I had the guys switch and Austin took his turn at giving head for a while. CJ grabbed the back of the couch to keep in that position and jerked Austin off. Every once in a while CJ would let out a very loud noise, and it was clear that he was getting closer to having an orgasm. Thats when Austin let out that he was about to cum from CJ jerking him off. He stopped sucking for a moment and just went to jerking off so that he could enjoy his orgasm more. When he came, cum shot all over his lower stomach and ran down his abs. CJ asked Austin if he enjoyed it and Austin said he did.

It was then CJs turn to get off, and so Austin grabbed a handful of lube and started to stroke CJ pretty fast. CJ was very good at telling Austin what he liked and didnt like to make it much easier for the both of them. Austin slowed his jerking down to make it more sensational, and as the feeling built up CJs body got more tensed. Thats when CJ announced that he was about to cum, and shooting his load it went on both him and Austins hand. Afterward both guys sat back on the couch and I asked if they wanted to come back to do more in a few days. Both said sure, and I told them that it would be for a project that I was working on. Some of the members have been emailing me off the forum and we were doing some planning for some of the models next shoots. Have to see what we can come up with.