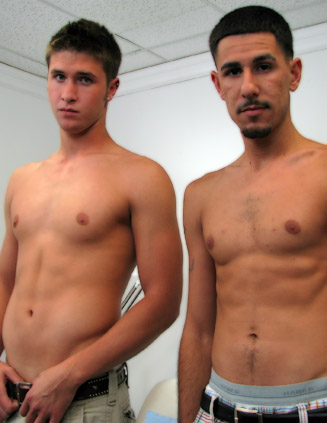 Pairing Logan and Ricky together I was mixing a newer model Ricky with an older one Logan. Both guys wanted the money for doing a shoot, so I explained to them that what I had planned was an oral shoot. I knew that Ricky was straight, but asked anyway if he had ever sucked cock before. His response was never, but for a certain dollar amount he would do it. Posing the question to the two of them, I asked how much they felt they should get paid for doing it. Logan yelled out that he wanted $1000 to do it, and I told him that's the amount that guys usually get paid to do anal. Giving it some thought though, I came up with the idea of doing another contest. I was going to be the judge, but the guy who gave the best blow job was going to get $1200, while the other guy only walks away with $500. That was a huge difference, so it was my hope that maybe our senior model Logan would get a little more creative with his dick sucking.

Both guys stood up to get started and took off their shirts, and from there the rest of their clothes followed leaving them naked. As they took a seat I told them we would get some straight porn playing in the background for them to watch. Jerking off and getting their dicks hard, it was no surprise that Logan was rock hard in around a minute, while Ricky kind of struggled. I told Logan to go ahead and give Ricky head first in order to get him hard and going in the shoot. However, Logan argued that since he was already hard and ready to go, his cock should get sucked first. With this being Rickys first time sucking cock I didnt know how well he would do not even getting his dick sucked by a guy. However, he dropped to his knees on the floor in front of Logan. Putting the cock in his mouth he started sucking and at first it was just like a learning lesson. I coached him along in telling him to jerk the dick once in a while to give his mouth a break and to catch his breath.

The longer Ricky seemed to suck cock the better he seemed to get. Logan didnt moan a whole bunch, but he did show other signs that he was enjoying the blow job. As Logans breathing started to change and get more rapid, I told Ricky to jerk him off more. He listened, but also used the tip of his tongue to lick the head of Logans cock. It was then that Logan gave a warning that he was getting close to shooting his load. Without any other warning the cum shot out and went right in Rickys mouth giving him a big load of cum. He spit it back out onto Logans lower body and continued stroking until Logan was finished. Logan said he gave him some warning, and that Ricky should have moved his mouth out of the way. Rickys lips were covered in cum, from giving his first blow job. I was impressed by what this straight boy could do with his mouth, so I spoke up and said that Logan was going to have to try topping that. The guys traded place and Logan took his knees down on the floor in front of Ricky.

Logan had a little bit more of a challenge to start out with because he was going to have to get Ricky hard first. Then, build up to getting him off and blowing his load. Putting the limp cock in his mouth he started to suck and as he moved his mouth up and down it showed that Ricky seemed to get more turned on by Logan sucking the whole thing. As Rickys dick became harder and thicker, it was much easier for Logan to do more with. It was surprising watching Logan deep-throat it as much as he did, but he went on to using his hand to help out. He even would pause to lick and suck on the balls which were hairy and something that Logan doesnt prefer to do. Trying to speed things along he went faster, and also tried to use a combination of hand and mouth. Ricky also gave a warning that he was going to blow his load, and so Logan pulled his mouth to the side and I kind of thought he would have taken a facial, but instead most of the load went all over his hand. After giving the contest only a moment of thought as far as who would be the winner of the $1200 king of sucking prize I announced that it was Ricky. Logan was a little butt hurt that it wasnt him, but Ricky took cum in his mouth for the first time sucking dick and that was signs of a true porn star.