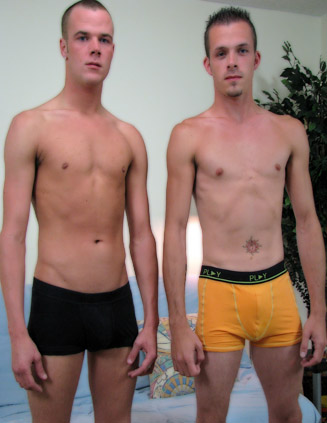 To help me do one of the shoots I brought in Tyler to handle taking some pictures and extra video with another camera. The guys that we had in the shoot room ready to start filming were Austin and Jimmy, and before we walked in I gave Tyler a heads up that I wanted the guys to fuck this way he could help me out. When we walked in the room we started recording and I pitched Tyler the question of what he wanted to see the two boys do. His quick response was that he wanted to see them fuck, and then I added to that having them flip-flop on each other. I told them that I would offer the two of them $1000 a piece, if they would do the flip-flop fucking, both of them said that they were fine with the money that I was offering. Standing up I had them start with taking off their shirts and as the clothes came off I brought up the fact that Jimmy had devirginized Diesel before in a shoot. That's when we kind of went around the room on who knew Diesel. Since Austin has been here so many times he just got completely naked, while Jimmy was still standing in his shorts and underwear.

We talked about how Austin had met the writer to the movie Milk and all of the models in the room had seen it. Giving their comments and recommendations for everyone to go see it and offer their support. That's when I told the two of them to kiss and Jimmy spun around locking lips with Austin. His hand came up, grabbing the back of Austin's head keeping the passionate kiss going. Jimmy directed Austin back into taking a seat on the couch and worked his mouth down to Austin's nipple. From there his mouth continued south until it stopped at Austin's cock. Austin made a comment that Jimmy was good at giving head and that it was clear that he liked it. Sucking on Jimmy's balls he kept going lower and licked the area between the asshole and balls. As Austin got turned on, he picked his leg up off the floor, a natural reaction to keep Jimmy going. That's when Jimmy picked up the leg all the way up to Austin's chest and using his tongue started to lick Austin's asshole. It was hot watching Jimmy rim Austin for a while and when he went back to sucking cock I told the guys to get the couch into a bed.

Getting into the 69 position, Jimmy hopped on his back and Austin got on top of him. Using his hand Jimmy stroked Austin's dick, and then sucked on his balls. Then, there was Austin sucking and deep-throating Jimmy's cock to get him hard. Both of them were very into the oral, and contact with one another. They both got up on their knees and began kissing again, and that's when Jimmy directed Austin on his back. From their Austin was rolled up in a ball, and his legs were spread wide apart, and Jimmy's tongue licked and treasured that asshole. I asked the guys which one of them was ready to get fucked first and Jimmy spoke up that he was. He got on his back and propped his ass up on a pillow, and Austin put a condom on. Austin wasted no time in putting his dick all the way in, and the two of them started kissing. Jimmy became very loud and moaned for more fucking. Using all the power in his legs, Austin pounded Jimmy as hard as he could. From there the two of them kind of came down from their rush and it was the perfect chance for them to trade places.

Jimmy was so turned on by getting fucked that he pushed his dick in Austin's tight hole in one solid push, causing Austin to yell out. From there they were able to build up to a solid pace and fucked harder. Austin moaned and was vocal about wanting the fucking to keep going. Jimmy's dick even came out once and Austin told him to get it right back in. As they continued to go at it, my hope was that Austin would be able to get off from getting fucked. He started to stroke his dick and as he appeared to be getting close Jimmy pulled out and jerked himself off. That's when Austin came shooting his load right up the middle of his chest and stomach. Some of the cum even landed as high up as his shoulder, and all the way down to his cock. Seconds later Jimmy came squirting his load right onto Austin's stomach and his load was whiter in color so it was easier to tell how much was his. The two of them were hot to watch, and put on a very passionate shoot even giving us some rimming. I had to give it up for Tyler and the great idea to put Jimmy and Austin together.