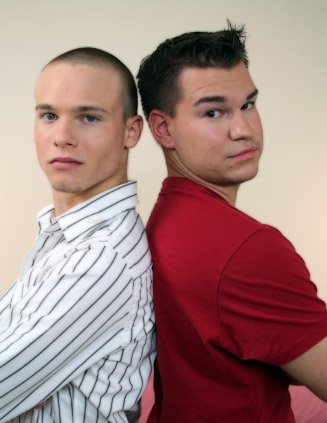 I received a call from Aaron, a model who has worked with us before; in fact, it had been 3 years since he last appeared on Broke Straight Boys. He said that he was curious if there was any way he could make some money doing a shoot or two and if he could get his way onto Broke Straight Girls. I told him that I thought we could do that, but that I would need him to come into the studio. The plan was for Aaron to do a shoot for Broke Straight Boys and then we would talk about him getting to do a shoot with the girls. I needed to see him in action again before I would go any further. I got to work and decided to pair him up with Corey, another straight boy, who had done a bunch of shoots as well for us. On the day of the shoot Aaron arrived first and I took him back to the room so that we could get an introduction with him first before Corey came in.

Aaron explained that he graduated college but now had a bunch of school loans that he had to pay back. He said that a couple of weeks ago he found Broke Straight Girls on X-tube and was an instant fan. Aaron said that he was straight and has a girlfriend who doesn't know about his past. I asked Aaron if he was up for bottoming in this shoot, if that would help him get on Broke Straight Girls. He said that it was fine if it got him with the girls, and we made a deal. That's when Corey came in and I introduced him as the straight Republican who likes to shoot guns. Both the guys were ready to get started, and so I didn't waste any more time talking. I asked them to take off their shirts first, and both stayed seated to do that.

Next to come off were their pants, leaving them sitting in their boxer-briefs. Aaron started to touch himself to get turned on. I told them I would put on porn and that I wanted to see some touching and oral leading into the fucking. Both guys seemed okay with all of that, and since Corey was going to be doing the fucking, I wanted him to get hard first. Aaron lowered his mouth down to the tiny, soft, cock and started to suck on it. It took a few minutes for Corey to relax his nerves and get into the oral, but when he did his cock started to grow. Before long, he had a raging boner, and Aaron was sucking and licking every inch of it. Making a couple of attempts, Aaron deep-throated the cock and gagged a couple of times. There is something hot about a straight boy choking on a dick.

The guys seemed like they were ready for the fucking to get started, and so I had them prepare. Aaron decided that he wanted to start out on his back, and they got into place. I reminded Corey that this was Aaron's first time taking a dick in his ass, so take it easy to start. He was able to get his dick in pretty easy, but he made a comment about how tight Aaron's ass was and that it was hard to move in and out. The movements were kind of small to start, and it was just going to take a few minutes for Aaron to relax from the feeling of having a dick in his ass. Corey kept up the fucking and, as it got easier to pound Aaron's virgin ass, they got a little more intense. Aaron told Corey to fuck him and that's just what he did. The faster that Corey seemed to go the more that I knew he was getting closer to cumming. He quickly announced that he was close to shooting his load. Pulling out he got the condom off in a hurry and then shot his load all over Aaron's chest, stomach, and dick. Then, it was Aaron's turn to work on getting hard to get off as well. When he was ready to shoot his load, it shot all over his hand and up to his dick in one long string of cum. As soon as they were finished Aaron wanted to know if he was going to get on Broke Straight Girls. I want him to get gang banged next by a room full of straight boys.