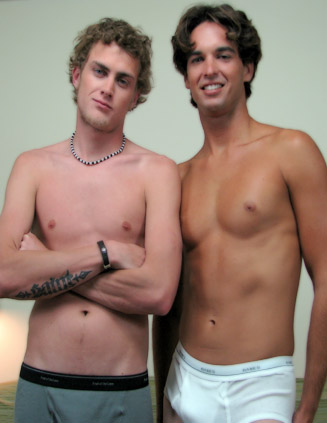 There was a member request to put Nu and Shane together so I called them up to see if they were interested in more work. Both of them were pumped to get a chance to make some more money, but they asked what the shoot was going to be. I told them to come with an open mind. That way there would be more of a surprise when they got to the studio. We got the paperwork out of the way, moved to the shoot room, and the guys took a seat on the couch. There they met each other for the first time. I explained to both of them that Nu really had some members that liked watching him in the shoots, and that one also picked Shane to be paired up with him.

Nu had recently been in a surfing accident where he was attacked by a shark while he was out practicing surfing with his new board. Nus shark encounter actually got him some national attention, and he had to take some time to heal before we could put him back to work. It has healed up enough that he didnt need to wear a bandage to cover it up. As for Shane, he had started up his own T-shirt business and had been investing a bunch of this shoot money in getting his business off the ground. I had the guys take off their shirts for me and they both stood up. As they were standing, I couldnt help but notice that Nu had developed some chest muscles. He said he had lost some weight and thats what really made him start to look more athletic. The guys finished getting out of their clothes and down to their underwear, giving their height, weight, and dick size. I had them stand back-to-back just to compare their height. Nu was an inch taller and Shane was an inch longer.

Taking a seat on the couch, I told them I would put on some porn, but would stay away from the bi porn. Just because some models were telling me that it wasnt that good, so I put on some straight porn for them to watch. I asked which one was going to suck dick first and both seemed to not care. Nu was the one that was going to go first, but they needed to get hard in order for them to get started with oral. In no time both had throbbing cocks and were ready to drop their underwear. Sitting on the couch, both showed off the cocks they were stroking as they kept their eyes on the porn. Nu looked over at how Shane was coming along and I told him that he could touch it. Reaching his hand over he took it in his hand and started to pump Shanes dick. Only seconds later did Nu just go and start giving oral to Shane who seemed to enjoy it, putting his head back and probably imagining something a little different taking place.

Nu took a break to sit up and, as he sat back, Shane went ahead and started returning the favor. Putting the dick in his mouth as he sucked, Nu reached over and jerked Shane off to keep him hard. It was a big moment when Nu made the comment that he was enjoying the head he was getting from Shane. I had the guys switch one more time, and had Nu go back to giving head to Shane. After a minute or so, it seemed that both of them were getting kind of excited. Nu moved down to the floor in front of Shane and, as he continued to suck the cock, I knew that Shane had to be getting close to shooting his load as his breathing had started to change. It was then that Nu tasted some of the pre-cum, because he pulled the dick out of his mouth. Shane came shooting his load all over Nus lips, and Nu didnt stop there as he sucked on the dick to get all the cum off of it. Shane got Nu back to being hard, and then let Nu work on getting himself closer to cumming. One thing that Shane did do was rub and play with Nus balls, but when Nu said that he was about to cum he pulled his hand away. Nu shot his load all over his chest and stomach. They both gave great cum shots, and it was a very hot shoot. After that I only had to hope that I could get them to do some anal, and I even teased Shane into wanting him to bottom for it.