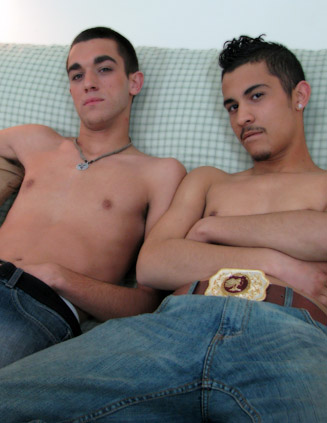 I brought Damien and Marlin back for another shoot, because I wanted to see them do oral together.
Both seemed fine with the amount I told them I would pay over the phone, and agreed to come into
the studio later that day. When everything was in place to start filming I began with introducing
them again to the camera. Damien is straight, has a girlfriend, and slowly he has been doing more
and more on camera. As for Marlin he told me over the phone that he has been doing some
experimenting on his own outside the studio with guys. He now pretty much considers himself bi-
sexual, and made sure that I understood that he still wants sex with girls. I explained to both of
them that if the oral shoot went well, that I would be interested in setting them back up to come in
for another shoot and take things further. Neither one really had any reaction to my proposal, so I
told them to go ahead and start getting out of their clothes.

Both guys got down to their underwear and the straight one was in some designer underwear and
the bi boy was wearing some generic boxers. Putting on bi porn for them to watch, I had them
stroke their cocks to get hard. It only took them about a minute to get hard and I had them stand
up for me. Even in Damiens designer underwear I could see the outline of his cock, and I reached
forward to see if it truly was that hard. Pulling their underwear down, both guys dicks were bouncing
around and I handed them a ruler to measure. Damiens dick was close to 8 inches in length, while
Marlins was at 7 and half inches. Turning and facing each other Marlin took both their cocks in his
hand and jerked them off.

My next big question for them was which one wanted to give head first? Since I knew that Marlin
was going to be a little more into the oral, I had him start and to do that he turned and put the cock
right in his mouth. It was very apparent that Marlin was enjoying giving the oral and that Damien
wanted him to continue. The one thing that I told Marlin to do was try deep throating a couple of
times to really get the straight boy turned on. Reaching out I felt Damiens balls with my free hand
and held his cock up for a second for Marlin. So far, the guys were looking great, and it was time to
change things up and have Damien give head to Marlin. He turned and took the bi boys dick in his
mouth and started to repeat what was just done to him. Damien continued and wasnt shy about
getting into it, and Marlins dick was hard as a rock.

I asked Marlin if he thought that he would be able to get off if Damien gave him a hand-job, and he
seemed to think that he could do it. Damien was up for the challenge, he went for the lube bottle
that was sitting there on the floor right by him. He put some lube in his hand and started to stroke
Marlins cock. Marlin didnt want to just sit there, and he asked if he could return the favor at the
same time. They both were giving each other a hand-job at the same time and it was getting hot.
Then, Damien let out that he was about to cum, I told him it was okay, and he sat back in order for
me to see what was going on. When Damien came, the cum landed right at the base of his cock and
on his stomach. Without stopping he turned to his side and really concentrated on jerking off Marlin.
Seconds later he was able to get Marlins dick to explode all over the two of them. Damien even
waved his hand covered in cum in front of Marlin to get him to lick it, but that wasnt happening.
They both hopped up and were ready to go get in the showers, and then collect their money. I will
see if I can reschedule them to come back later on in the week to do some more.