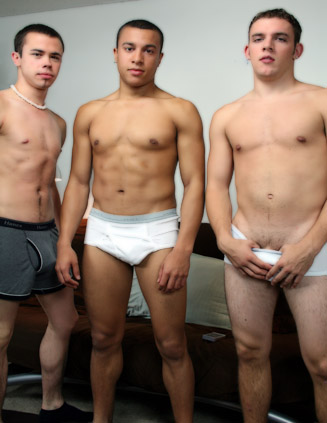 I decided to do another threesome scene, and so I picked three guys--JC, CJ, and the fairly new Michael. On the day of the shoot they all knew that they were going to be doing anal, so there weren't any complete surprises getting thrown at them. Michael, on the right side of the couch, is 19 years old, straight, has a girlfriend, and the shoot that he did before this one was an oral scene which he did great in. CJ was stuck in the middle, and he is always a members favorite. I found out that he was on a break from school, and at night he spends his time serving tables at a local restaurant. The last one on the couch is JC, our lucky bi boy who is down for whatever work I can throw his way. When it came to bottoming the only one who was going to do it was CJ. The other two boys were only interested in topping. I had the guys stand up in order to take off their shirts for the camera.

Peeling their shirts off over their heads, they were left showing off their chests and all of them were in good shape. Michael especially proved that he spends a lot of time in the gym. As the guys just took a seat back down on the couch, I asked them to go ahead and get down to their underwear for us as well. Returning to their feet, we soon saw that the straight boys were wearing white briefs while the bi boy was showing off some color. We went over the plan, so that they knew what to expect and the kind of show that I wanted. From there, I asked if they had any more questions before we got started, and they wanted to know how much money they were going to make. I asked them what they wanted, and CJ was the first to speak up with a request for a grand a piece. I was fine with that, and so were the other boys. My only request was to give me a good show, and all of them had to get off at the end. Pulling their cocks out the boys leaned to the camera's right and started sucking the guy next to them. Both JC, and CJ were the first to come out of their underwear.

Michael was last to lose his underwear, but it seemed like he was enjoying the blow job that he was receiving. His cock was HUGE! CJ was hard as well from the oral, and called for the guys to switch things up. They went in the other direction on the couch and JC was being a little more affectionate than what CJ has been used to in shoots. Michael wasn't doing too badly for this being his second time sucking dick. It was clear that they were ready to get the fucking started, and so they hopped up and got ready. JC was going to start the fucking first since his dick was a little smaller than Michael's. With a couple attempts to get his cock in, JC pushed his cock into CJ's tight hole. Getting aggressive with the fucking, JC tried to get as deep as possible. While CJ was getting fucked he used his mouth to suck on Michael's cock to keep it hard.

After several minutes it was time for the guys to switch and Michael to get his chance at fucking his first guy. He was able to get his cock in, but as he did, CJ made some comments about how big he was. I had the guys change position to get CJ on his back in order to get more of a reaction from his face. Watching them fuck, Michael was trying to keep a steady pace, and I noticed that CJ had his hand on Michael's thigh. That was because Michael was pushing more cock in than CJ could handle. JC wanted his chance at fucking one more time before he got off, and so as he got back into the motions, Michael announced that he was getting close to shooting his load. Sure enough he came right on CJ's upper chest. It was a nice size load, and was thick and easy to see on CJ's skin. JC pulled out and said that he was about to shoot his load as well, and he did with most of it going on CJ's dick and hip. Last to get off was CJ, who stroked his dick to the porn. He came dribbling his load out and onto his hand. All the guys were able to get off, and did a great job in the shoot. I asked if any of them wanted to go on a camping trip next week, but it sounded like I had some convincing to do beyond just offering beer.