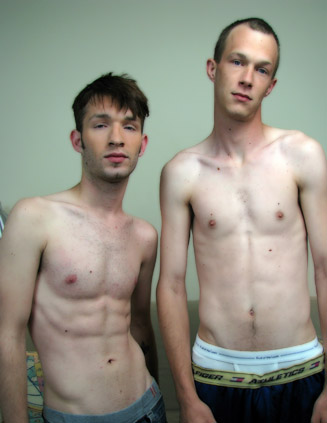 I received this call from two guys that were looking to do a shoot, and one of them was Torin, who I spoke with the most. Since his buddy Steven needed to get the work going fast, I told them that they could come by the studio the following day. The next day when they arrived at the studio, I had them take a seat on the couch and started filming. The two of them had a very interesting story of why they were getting into the work. Steven, who is 26, just had his house burn down the week before and literally lost everything in the fire. He didn't have a job, and had to borrow all his clothes to wear until he could start getting his own stuff again. Torin and his girlfriend were very nice and offered for Steven to move into their little one bedroom apartment to take the couch until he could get on his feet. Torin is 22, and has been with his girlfriend for a year and half. I asked how they found us, and Torin explained that a couple of his gay friends turned him onto Broke Straight Boys as a way for them to come up with some money. It sounded as though they made an agreement that Torin would go along with the shoots to help get Steven back on his feet and off the couch. That meant that Steven would be doing everything in the shoots he could to make money.

I told them that I wanted them to do the jerking scene and they wouldn't have to touch each other, and to make things a little better I was willing to pay more since I knew that Steven needed to come up with a bunch of money to start getting his own place and things. Torin thought that he would just drop Steven off to do the work, and would just go somewhere to blow the time. However, the money started doing all the convincing for me and once they agreed to do it I just had to have them start getting undressed. Both guys took off their shirts and it was clear that neither of them spend any time outside in the sun from their pale white skin. Then, we found out that Torin will still walk around the house naked even with Steven there, he just asks him to cover up. Well, if that's the case, for some reason he was being a little shy on camera. I didn't let the guys stay in their pants for too long, before they had to take them off. Sitting in their underwear Torin had one a pair of boxers and Steven had on a pair of white briefs. Torin took off his underwear and tossed them in Steven's face.

Both guys were watching the porn and jerking off, and I finally had to ask Steven to take his off. I pointed out the lube bottle that was sitting on the table next to them, and Steven made a comment that it was kind of weird to be in the same room doing this. I moved over to the other side of the couch, and there Torin had a huge cock that he was stroking. I could see why he took pride in walking around the house naked. Steven on the other hand looked like he had a big dick as well, but that he was still working on getting it fully hard. I had Torin stand for me in order to get a better view of the whole cock. As he stood jerking off I took a guess that his cock was somewhere around 8 inches pretty easy. Steven took his turn standing and jerking off as well for me. He was doing this shaking thing with his dick, having it flop around. I had him turn around for me to show his ass to the camera, before taking a seat back down on the couch. Torin was moaning a little bit more as he jerked off and gave me a warning that he was getting close to cumming.

Torin was concentrating on the tip of his penis while he jerked off and was squeezing pretty tightly. All of a sudden a burst of cum shot straight up in the air, and landed on his lower stomach. As all of this was going on I noticed that Steven was over on the other side of the couch jerking off even faster to see if could get off. As he was stroking his cock as fast as he possibly could, I noticed that his legs were naturally bent and high as he grabbed the back of the couch with his other hand. With Steven in this position it was clear to me that he was a natural bottom and he just might not know it yet. His hand moved the fastest I had ever seen and then Steven gave me a warning that he was about to cum. He did shooting most of his load down the side of his dick. Both these guys did a good job, and it was a clear that they get a workout every time they jerk off. I told them that I would like to bring them both back to do another shoot where they receive oral. Torin wanted to know if it was going to be a girl, and of course I said yes. Stay tuned to see if I am able to get them back in here to see what my version of a girl happens to be.