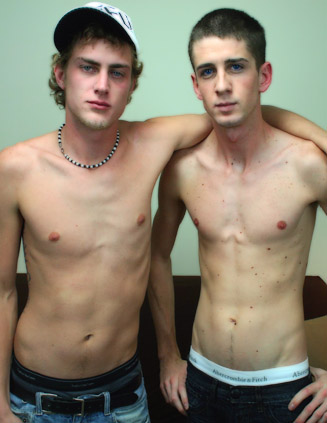 Putting Shane and Alec together I had hoped that I would be able to get a decent shoot, since I had recently paired them up separately with other guys that didn't work out. The other guys couldn't get hard, and so the shoots just were a letdown. However, I know that Shane can always get hard, and Alec has been doing great ever since his first shoot with us. I had the guys show up and both really didn't speak to each other besides just saying hi and where they were from. We walked into the shoot room when I was ready and I had them take a seat on the couch. I started out with telling them the reason I put them together and that I wanted to see them fuck. Their eyes were on me the whole time in wanting more details, and I told Shane that I would give him $1500 to take Alec's small cock in his ass. However, Shane told me that he made the statement in his very first shoot that he would not bottom for anything. That lead me turning to Alec to see if there was anything I could do to convince him to do it.

Alec could use the money that I was offering him and we both knew that, and there was a long silent moment. Then, he said that he wanted more money to do it, and I offered him an additional $200 to my last offer to see if he would take it. Once he said it was okay, I needed him to go prepare for taking a cock, and he had to leave the room for that. While Alec was gone I had Shane get undressed in order to work on getting hard. Sitting there on the couch bare-ass naked he stroked his cock without any lube, and the great thing about Shane is that he can pretty much get hard any time, any place. It took about 15 minutes, but Alec returned with a towel around his waist and said that he was good. I had him remove the towel and work on getting hard to catch up to Shane. It was very noticeable that Alec kept looking over at the size of Shane's dick to see what was about to go up his ass.

I asked Alec if he was comfortable giving oral, since he had done it in the previous shoot, and he said he was fine with it. Turning to Shane he leaned over and took the cock in his mouth and started to suck. Alec had to get the dick all wet from the tip all the way down the shaft, but once it was, his mouth was able to slide up and down much easier. The two of them kept the oral going, and Shane just left his head back on the couch, so that he didn't have to watch it. After several minutes though it was clear that Shane was ready to fuck, so I had him go for a condom. Not knowing how easy the two of them would be able to get going, I had Alec try riding the cock for the first time. This straight boy's cherry was about to be popped, by a pretty big dick, and Shane didn't seem too concerned about it. As Alec sat down on the cock, he went very slowly until he was sitting down all the way, and then I told him to start moving up and down.

The longer that they fucked the more that I noticed the moans from Alec started changing from pain to pleasure. When they seemed to be ready for a change I had the guys try a different position, with Alec getting on his back. Shane supported Alec's legs up in the air and he guided his cock into Alec's hole once more. All Alec could do was lay there and take it, and Shane seemed to start to get more aggressive with the fucking. The close-ups that I got of the penetration was hot to watch the cock go in and out of the tight, straight hole. Alec let me know that he was getting close to getting off, and I gave him the go ahead. Seconds later he shot his thick, runny, load all over himself. When he was done I told Shane to fuck until he got close to cumming. Just before he was about to cum, he pulled out, whipped the condom off and came right onto Alec's dick and hand as well. I was very glad that the two of them worked so well together and I hope to maybe pair them up again in the future.