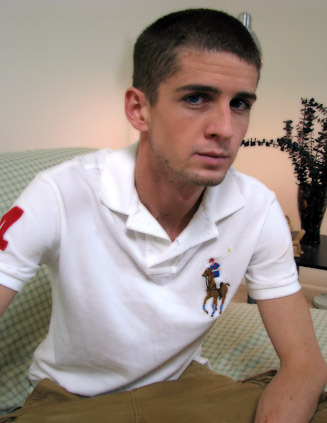 I got an application from a guy in Colorado. His name was Alec and he wanted to make some money. He was straight, and recently found out that this girl he was seeing got pregnant. Alec was a little unprepared for the news, and so he wanted to build up some savings knowing that things could get a little rocky here in the near future. I setup for him to fly down to south Florida to see us for a couple of days for shoots. One of the very first shoots he was to do was a casting couch to see if he was worth our time, and when he took seat on the couch he was very nervous. I found out from Alec that he was 6 feet tall, has an 8-inch dick, and size 11 shoes. When I gave him shit about if girls talked about how big his feet were, he told me that they just comment about his dick.

It was Alec's first time being on camera, so he was a little shy. Standing up, he stripped off his shirt and his bare chest was exposed. Next to go were his shorts all the way to his boxer briefs. I asked if he likes to jerk off with lube at home and he said yes.

I had to have my assistant run into the other room and grab a bottle of lube for Alec. Then, I asked Alec if he liked to watch porn, and his response was yes. I told him that I would put on some gay porn for him to watch but he told me no gay porn, straight. Putting on some of the lube on his dick he started to jerk off inside his underwear, but I told him to go ahead and pull them down for us. Stripping out of them, I had him show his bare ass to the camera, just to see if he had a butt. Alec's ass was pretty flat, but as he did a spin around I noticed that he had a bunch of tattoos on various parts of his body. I told Alec to jerk off like he does at home and feel free to change positions or do whatever. The only thing I wanted was a warning when he got close to shooting his load.

Alec used a handful of lube to jerk off his cock and I just stood back as he got started. As I watched, this straight boy jerked his dick more and more. He concentrated on the top half of his dick. His cock was getting very thick and for sure was eight inches in length and a good handful. The tip of his cock was what seemed to be the most sensitive, and as he stroked his dick he kept up the same speed. After a while the lube seemed to not be as effective, but he didn't go for more. His breathing started to change, get a little more rapid, and it seemed as though he were getting closer to having an orgasm. Without giving me a warning he ended up shooting his load all over his hand. Alec was an oozer and not a shooter, but he still managed to let out a huge load. Afterward he said that he felt better and I asked Alec if he had ever tasted his own cum before. Saying no, he didn't even want to give it a shot. It sounded like he was up for more work, so I will do some thinking and see who I can pair Alec up with later on this week.