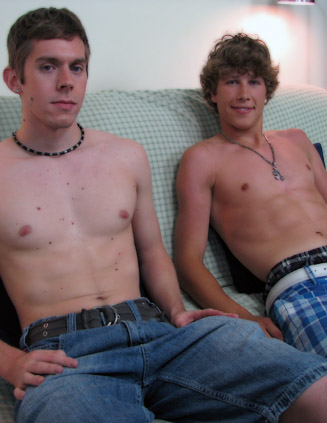 I called Scott and Jordan up to see if they wanted to come in to do another shoot, and figured we would kind of decide how far things would go when they came in. I was pretty surprised at how easy it was to set things up for the following day. Jordan was the first to arrive and he told me that he makes a lot more money being in front of the camera compared to his retail job, so he would move anything around for the extra work. When Scott showed up we moved over to the shoot room and I had them take a seat. Starting with Scott, he is bisexual and has some experience with guys as for as hand-jobs and oral goes. The one thing that he says, he won't do is anal, but hopefully someday that will change. Moving over to Jordan, he's straight and has done oral with guys before here in the studio. I told the two of them that I wanted to purpose another contest between the two of them. This time I wanted to see which one of them could get the other guy off from oral and jerking together. If they could do it I was going to give them $800. If they couldn't do it and the guy had to stroke himself off then the pay was only going to be $600.

The guys seemed happy that they were going to make more money than the shoot they did the other day, but Jordan wanted to caution Scott about his braces. Jordan didn't want to end up with railroad tracks on his dick, so both were told to be careful. First, to come off was their shirts, so the guys stood up to do that. Stripping them off, their bare naked chests were exposed, and Jordan's sunburn wasn't as noticeable. Continuing on with their shorts, the guys got down to their underwear and from there they took a seat on the couch, so that they could watch some porn to get hard. Stroking and playing to porn that I had on the TV, it was hard to tell how far they were coming along. I had them take off their underwear and it was clear that Jordan was in the lead, and Scott was watching Jordan jerk off. Maybe Scott just needed the interaction to start, so I asked him if he would go ahead and give Jordan head. Standing up he got down on his knees on the floor and using his tongue he licked Jordan's dick to tease him.

Once Scott finally put the dick in his mouth Jordan seemed to just fall back in aw over the pleasure that he was getting. Jordan even put his hand on the back of Scott's head to take control over the speed and depth. After a while though I told Scott to reach for the lube bottle to help him out and so the hand-job began. Right away, Jordan started moaning and was pretty loud about it. Scott was able to keep up a good pace at jerking Jordan off, and so it looked like at any moment he would blow his load. Then, Jordan said the magic words, "I'm about to cum." Cum started to spray everywhere, and Scott kept stroking the cock to get every last drop out. It was clear that Jordan's dick was sensitive when he kind of pulled away. Next, to go was Scott, so I had Jordan clean up before he got started giving oral.

Jordan leaned over and took the bi-guy's cock in his mouth and started to suck. The more movement his mouth had, the harder the dick got, and Scott seemed to be making more noise. I wasn't very sure if Scott was going to get off from just oral, but it certainly was getting him turned on. Jordan grabbed a handful of lube, and he took a hold of the semi-limp cock and started to stroke. Scott started to move around a bit and made more noise as Jordan got him closer to having an orgasm. Then, all of a sudden as soon as Scott said he was going to cum, he shot his load all over Jordan's hand. To keep going with it Jordan stroked even though it was very clear that Scott's dick was very sensitive to touch. The guys did such a great job, I told them that I really wanted to see them come back and do an anal scene, but that we would talk about it and see.