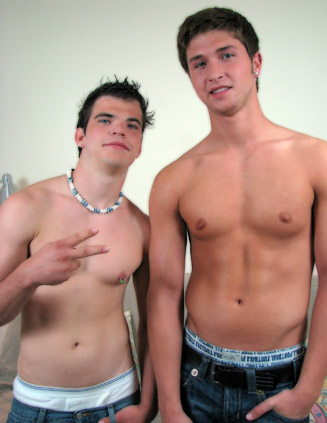 Holden has done a handful of shoots now, and so he has been getting more comfortable with each one. After his last shoot I told him that I wanted him to think about doing anal, and that with some practice I think that he could make some good money. Over the phone he was really nervous about whom I would pair him up with to do it. When he agreed that he would try it, I told him to come in to do a shoot and we would figure it all out the day of the shoot. I worked hard behind the scenes to have everything ready, so that the shoot could run as smooth as possible. When he arrived I kept the other model in a different room and started filming with just Holden. As the two of us were talking, he told me that he practiced anal with this girlfriend and they sounded like a crazy pair experimenting. Using different household objects they could find to put up his ass, and she told Holden that she wanted to use a strap-on with him during sex sometime. I explained to Holden that I paired him up with Logan, so that he didn't have to worry about doing anything with Jay.

Logan came into the room and took a seat on the couch, and I explained how things were going to go and the pay. When Logan kind of moaned about the pay I told him that he could bottom since he tried it once before, and his quick response was no. Logan bottomed in that shoot for charity to help the humane society out. We joked around about the cats that I like to keep around the studio and my house. Getting back to what we were doing, I told Logan that Holden was nervous about doing anal for the first time. He went home after the last shoot and experimented with different things around the house with his girlfriend. Now, Holden's girlfriend is into this type of play. I had the guys start by standing to take off their shirts. Next to go was their pants, but they could just work on getting hard in their underwear first. Taking a seat they started to stroke to the porn.

Since Holden has already had his dick sucked before by a guy, I didn't want to waste much time with oral. I wanted Holden to get Logan as hard as possible from a blow job, and then from there they would go into the fucking. Holding would begin in the doggie style position, and then would flip over to his back. As they watched the porn their dicks got harder, and I had Logan stand to show off how hot his cock looked. Taking a seat back on the couch I asked Holden if he would start to give oral. Putting Logan's dick in his hand, he put the dick in his mouth and began to suck. As he moved his mouth up and down, I asked Logan if Holden was as good as we thought, and Logan's response was that he wasn't half bad. Holden paused from what he was doing, so that he could tell us that he was only doing what he likes to have done to him. Continuing with the dick sucking he was able to get Logan rock hard and ready to fuck.

I asked the guys to get ready and in position for the fucking, and to change the couch into a bed. Logan moved in between Holden's legs and placed the tip of his penis against Holden's hole. Pressing in, he was slow to ease the head in, but Holden was flinching from the discomfort. However, once he started to relax a bit, Logan was able to push more in. Once he was half way in, he made the rest of his cock all the way in. They fucked in this position for a while and Logan slapped Holden on the ass a couple of times as he pounded him. I had Holden flip over to his back and they continued, and right away what caught my attention was that Logan started to play with Holden's pierced nipples. As I was filming a close up of the penetration I saw that Logan's dick was turning white and that was from Holden's prostate. We actually had Logan put on a new condom to continue fucking. Only a few minutes later, he told me that he was close to cumming. He stroked his dick and until he ended up shooting his load all over Holden's chest and stomach. It took Holden a while to build up to cumming, but he came on his stomach as well. Maybe I can get Holden paired up with someone a little bigger next.