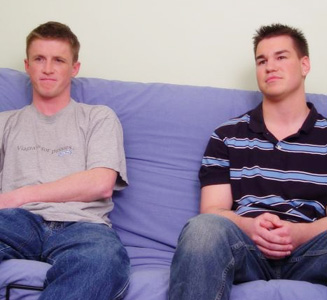 I was out at the park today walking around and I came across these two guys playing football with each other. They took a short break and sat down close to me. I asked them what they were up to, and if they had ever done any modeling before. They said no, and I told them what I do. Both got a surprised look on their face and the next question was how much could they make. I gave them my whole speech on what goes into the shoot and got them to do it.

We got back to my place and I had them take a seat on the couch. Hank is a 20 year-old college student out here from California going to school for engineering. Aaron is 19, from New York, and is going to school in Florida for business. Well, both guys are in great need of cash like all broke straight boys are, and I am glad that we can help. Hank has some trouble with speeding tickets and needs some money to pay the fines. Aaron has this really nice new car that he can barely afford to make the payments on, and to top it off he has a girlfriend that likes expensive things.

Hank and Aaron both have good looking bodies, and when I had them go for the clothes both seemed pretty comfortable at that time. Hank pulled off the shirt and revealed this smooth skinny body. He looked like he could pull off the twink look with some help. Now, Aaron on the other hand had a little more of a build to him and looked like he had been visiting the gym a little more than Hank. When it came to the underwear, Aaron displayed a nice pair of tightie-whities and Hank had on some boxers.

Both guys were sitting there on the couch jacking off to porn to get hard. I told Aaron to help out his friend by sucking his cock. Of course, he wanted to know how much he would make for doing it. We negotiated the pay and then he started to help Hank out. Hank sat back and kept his eyes on the T.V. the whole time. This was the first time that another guy had ever touched him or given him oral. Hank was giving me some looks, and seemed to getting very uncomfortable. I even had to stop the camera and pull him aside from Aaron to talk. He told me that he didn't know if he could go through with the shoot. I told him that was fine. I would pay him the base price we agreed on. Hank took a few minutes and then told me that he wanted to try to continue because he really needed the money and that he didn't really care what he had to do. Returning back to the couch we continued to shoot.

After Hank received oral from Aaron, it was time for him to return the favor. Hank moved very slowly, and I didn't add any pressure to make him go faster. He lowered his lips onto Aaron's dick and had his eyes closed the whole time. Once again, he had to take a break and step outside but he returned with a game face on to finish the scene. It looked great! Hank was really straight and desparately needed the cash. I had Aaron jack Hank off until Hank shot cum all over his stomach. Then, it was Aaron's turn. Both guys had huge loads, and I was thrilled that the shoot turned out so well. Both guys did very well for their first time doing anything with a guy before. Hank will need some more time to think about more shoots. Still, I had no idea what I had found at the park until after we got home. I am going to have to start going to the park more often.