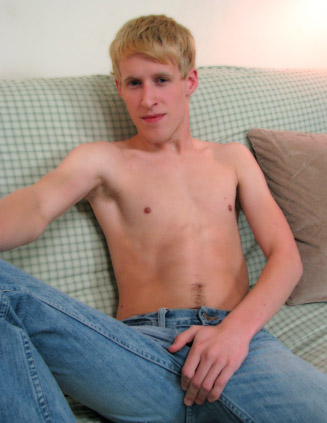 Aiden applied with us and I really debated if I was going to bring him in for work or not, he's 20 years old, very gay, and loves to explore his sexuality. He didn't jerk off until his 13th birthday, where he learned how to do it in a gay chat room. From there Aiden started to spend more time chatting and looking at gay porn, and he told me that guys who just start experimenting with other guys are his specialty. I told Aiden that I only tend to work with a few gay boys at a time and that's because we're primarily a straight website, however sometimes gay boys are needed for bottoming, oral, and to add to the interaction. My plan for him was that he was just going to do a solo shoot, and if I like him and his body than I would reschedule him to come back to do a threesome with two guys that are friends. They don't want to do anything with each other, but with Aiden he could suck both their dicks. He seemed to like that idea and the chance that he could give oral to two guys at once. I had him stand up to start getting undressed for the camera.

When it comes to working out Aiden said that he likes to work out as much as possible, and focuses on his chest and abs. I could see that when he was standing there shirtless in front of the camera. He had a thin, happy-trail leading to his belly button. Next, to come off was his pants, and underneath he had on a pair of blue designer briefs. Once he took those off, Aiden was standing there naked and I told him he could take a seat while I turned on porn for him to watch. As he started to play with himself his cock slowly started to get harder. I found out that Aiden prefers to bottom and he likes to be a highly active bottom that gets freaky. When he does top, he said that he must really be into the guy, and it usually doesn't take him long before he shoots his load. While he jerked off, I just stood back to observe him to his own thing. After a while of sitting in the same position he moved so that he could lie down on the couch. Stretching out long ways he spread his legs apart and with his other hand he rubbed his body, and also focused on touching his asshole.

Trying out one more position he turned in the other direction so that he was more in a sitting position on the couch leaning against a stack of pillows. The muscles in his chest and arms were getting tense and he seemed to jerk off faster. With his legs wide apart and a little bit of fingering, Aiden seemed like he was getting close to cumming. All of a sudden his breathing got louder and then he shot his load onto his chest and stomach. Afterward Aiden said that his load was from a four day build up, so I hoped that most of his cum shots would be that way. Since he was able to pull off the solo scene so well, I told him I would talk to the two boys to see about setting up the oral scene. I just gave Aiden a warning that they think their getting a female, but it was going to be him. He seemed to like the idea and we will se when I could possibly get the shoot setup.