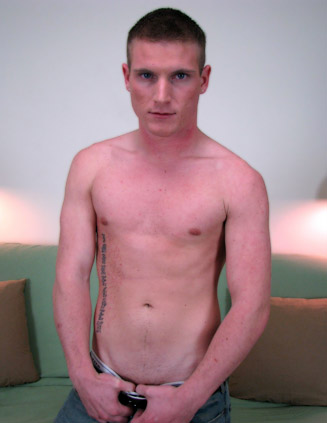 Let me introduce you to Ridge, a 21 year old, gay for pay model that has recently jumped back into the spot light to help take care of some bills. When I asked him what kind of bills he was talking back, Ridge told me that he has some court costs that he had to come up with by a certain deadline. The pressure was on to make sure that they were taken care of or he could be facing jail. He told me that he is straight, that he kind of came across the work years ago through an ad, but quit doing it just because it was too much guy/guy contact for him. With the pressure of the law breathing down his neck, he started to seek out the work and that's how he came across our studio. Overall Ridge needs to make a couple grand to take care of the speeding ticket issue, and I explained to him that we should be able to help him out with that. What we were going to do was start him out with a solo shoot, he would only make $200 for that shoot. However, after that we would pair him up with other models and he could start to make lots more money.

Ridge sounded interested and was ready to get the show started. I had him stand up for me, and take off his shirt. Peeling off his shirt he revealed a very nice white, smooth chest underneath and we discovered that he had a tattoo on his side as well. He explained that it was from his German heritage, and I was curious if we would find any more tattoos on this model's body. Next to go was his pants, and as he took them off I made small talk with Ridge and found out that it had been about a year since he had last been on camera. That was why he was experiencing a little bit of the butterflies in the stomach for being back on camera. I found out that he recently broke up with his girlfriend, and she never knew about his secret life on camera. As he took off his underwear I asked how big he was and when he is hard his cock is around 8 inches hard. I had Ridge turn around and show his ass to the camera. He had a smooth, bubble butt, and it looked like he could use a good slap on the ass. That's when I found out that Ridge has topped and bottomed before in shoots, so hopefully I can get him to do it again for us.

Taking a seat on the couch I asked Ridge to just work on getting his cock hard, give us a show, and cum whenever he was ready. I put on some straight porn at his request and then just stood back to let him do his thing. Ridge started by closing his eyes and as he played with his dick stroking it outwards towards me. His cock was getting harder with every pump. He would rub his body and touch his nipples, showing that he liked the body contact, and as his legs raised up onto the couch I was able to get a shot of the area below his balls, and it looked smooth and inviting for a tongue. Getting the camera right in between his legs, his cock stood straight up and he was putting on a good show for the camera. Fucking his hand and moving around on the couch, I wasn't getting board watching this bad boy play with himself. In more of a laying down position he let me know that he was getting close to cumming and with that I moved in. When he came some of it landed at the base of his cock, but most of it covered his hand in cum. Afterward he said that he hadn't came in three days so he felt great, and I invited him to come back for more money for more action.