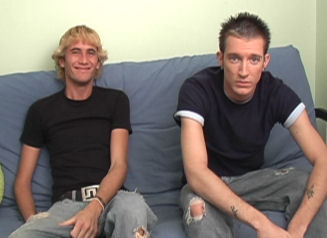 Jarett is back again. Hmmm I think he is liking this. This time he brings his friend Jordan who is in a
band. Jarett doesn't say anything about this being a shoot for a porn site. Jordan seems very
uncomfortable doing anything in front of his friend but money is always the convincing factor. We ask
Jordan if it is ok if Jarett gets naked and he is very hesitant. Jarett gets naked and we finally get
Jordan to get naked too and we get both of them to start stroking it.

We ask Jordan if we pay him another $50 if he would let Jordan suck his dick. He says no way. We
put some more money on the table and finally convince him to receive head from his buddy. Jarett
starts sucking his dick and uses his tongue alot on the head of his penis. Jordan seems to be loving it
because his dick is rock hard.

We ask Jordan if he likes fucking girls. Hell yeah, he says. Then we ask him if he would fuck Jarett
and he responds that he thinks he would do that. Then we take it one step farther and ask Jordan if
he would let Jarett fuck him and he says hell no and starts freaking out and starts getting dressed to
leave. His friend tells him to stay and finally we convince him to gets fucked by his buddy for $800.
Jarett ties him up and gets ready to slide his long hard thick cock in his friend. Jordan says I don't
think this is going to work but Jarett keeps going. Pretty soon Jordan is taking Jarett's full cock in his
tight virgin ass. I honestly did not think we would get him to go this far. They switch positions and
we put Jordan on his back. I think Jordan is starting to like it. Jordan keeps pounding his friend.

We have them stop and have them start jerking off. Jordan cums first and cums quite a bit. Jordan
and his big monster is next and he cums right after shooting his load right on the futon. What a hot
shoot! Another broke straight boy down and many more to go.