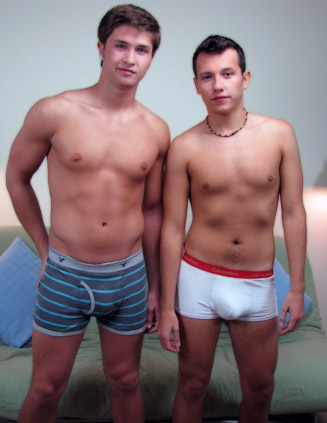 There happens to be an interesting story of how the shoot of Fernando and Logan came to be, and it all began with Fernando. He was a fan of the site following it on x-tube and one day while he was at school there was a familiar face in walking around campus. Later that night Fernando confirmed that it was Logan from Broke Straight Boys on campus. Watching most of Logan's scenes, he became an instant fan and was curious if everything was true. Both of them were in the cafeteria one day, and Fernando followed him when he left. Cornering Logan, Fernando confronted him about the work, and found out that it really was him. They started talking about it, and that was when they called me up and Logan said that Fernando was interested in a shoot. Both of them came in and we started the scene telling that story. It was clear that Logan was freaked out by Fernando�s approach at first, just like he was a stalker. However, after they talked for a little while Logan was at ease being around him.

I knew that Fernando was at least bi or gay, so I had planned for them to do an anal scene. When I went over it with both of them, Fernando confirmed that he was bi, but never experienced anything with a guy before. Slowing things down so that Fernando didn't get crept out, I told them that we would just do oral. I confirmed with Fernando that Logan is only with woman around campus, and he said yes. When I asked Logan if he considered himself a jock, he said no that he was just into soccer, but he was keeping in very good shape. Moving things along I told them to go ahead and stand for me to take off their shirts and pants. Both guys did and I tried to watch both, but I kept my camera on Fernando more with him being new. Bringing up the topic of pay I said that they wouldn't make as much as we talked before because that was for anal, but then I had to go back and forth with Logan to set the price. I had both guys show their asses to the camera to get the party started, and then they took a seat on the couch to watch some porn.

As the two of them got hard stroking in their underwear, when Logan got hard he was the first to get completely naked. Then, Fernando followed and right away I picked up on some awkwardness in the room. I told Fernando that since he was interested in Logan to get started in giving him oral. He reached over with his hand touching the dick that he has worshipped for the first time. Lowering his mouth down towards the tip, I gave him some advice and that was not to use any teeth. Opening wide he swallowed the cock, and began to give head. Right away, Logan started in with giving oral and I knew we were off to a good start. Logan did a little laughing and I knew that he was just thinking about the current situation and how it came to be. The laughter caused Fernando to stop and question how he was doing. Logan just directed his mouth to keep going, and they were doing well. After a while though I told Logan that he should give some oral back to Fernando and Fernando started to sit back when he heard that. Logan got started with sucking, swallowing, and licking Fernando's rock hard cock. At one point I panned down with the camera to see that Fernando was curling his toes from the blow job he was getting.

Logan can only put up with doing oral for so long, and then he usually just moves on to jerking the guy off. That's what Logan did with Fernando, and Fernando was already jerking him off. Both guys sat up and stroked themselves off, and then Fernando started to rub Logan's thigh working his way up to his cock. Logan let him take over to giving him a hand job, but after a while it proved to be too difficult for Fernando to concentrate on himself. Both guys went to just concentrating on themselves and that seemed to be working, because Fernando let out that he was about to cum. Seconds later he came shooting his load up the center of his chest down to his cock. After that he was tired and just sat back watching Logan jerk off. Logan had every muscle in his body tensed up as he jerked off and it was just a countdown until he exploded. Sure enough he squirted his load out onto his stomach filling his belly button with cum. The guys did a great job, and after that experience they seemed more relaxed and we hope to see Fernando back into the studio to do some anal.