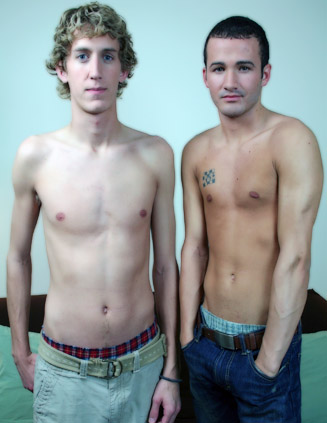 Cody has been with us before, he happens to be a basketball player, 6'5", a sprayer, and has huge feet. When I asked Cody he said that he is still straight, but has been experimenting with guys only on camera. Then, sitting next to him was Luke, our 18 year old gymnastics star that is bi-sexual. He hasn't been with a guy yet, and has a fantasy in his head that I hope to make happen. I told them both that I was going to give them a $1000 a piece to do a shoot for us, and make it really hot. In the shoot I wanted to see kissing, and fucking with passion. Both guys seemed very down for it, because of the money and also they were horny as hell. To get things started I wanted to see them start with kissing. Both turned to one another and moved in for it, once their lips started touching they were on a roll. Luke reached over and grabbed the back of Cody's neck. As they got more into the kissing, Luke lifted up Cody's shirt and began kissing him on his stomach and chest.

There proved to be a connection there when Cody reached over and kissed Luke's chest and stomach as well. From there the two of them took off their shirts and were trying to get comfortable on the couch. I spoke up and told them to change it into a bed to make it easier. Cody lied down on his back and Luke crawled on top of him to kiss once more. As they were kissing Luke went to get Cody's pants and underwear off and once he was naked, they went for Luke's clothes. Although, Luke couldn't even wait to get out of his boxers before he was climbing back on top of Cody. Luke showed some dominance when he kept Cody down while he was kissing his chest. Working his tongue around Luke teased Cody before sucking on his dick. The blow job must have been good, because Cody started talking dirty and wanting more. After a while though the two of them switched and it was Cody's turn to give head. Luke was still a little nervous and I could tell from his cock not getting hard right away from the oral.

Once Luke got hard though he stood up on the bed, and fucked Cody's mouth like it was his own personal toy. Grabbing Cody's hair and the back of his head, Luke made Cody deep-throat his cock repeatedly. Cody wouldn't stop and the two were very much into body contact with each other. They both got down on the bed in a 69 type position and kept the oral together. After that though I showed them how to do docking, this is where two guys sit very close together so that their dicks are touching to jerk off as one big dick. Luke turned to me and said that he was ready for the fucking. I handed him a condom and he put it on. Luke got right over Cody's dick and started to sit down, and immediately he was hit with a feeling that he had never felt before. A rush of pain and pleasure at the same time, but once he relaxed some more the pain went away. The two of them started to pick up the pace a little more and before I knew it they were fucking.

After a while they switched and Luke got onto his back, and Cody was able to get his dick right in and continue. In this position Cody was able to put his weight into the motion, so he was able to pound a lot harder and make the fucking more intense. Luke even wrapped his legs around Cody to keep him going, and Luke was moaning the whole time. I had them try out doggie-style as one more position before they both would be close to shooting their loads. Cody was more gentle to start in this position and I had to tell him to go harder, and so when he did he went as deep as he could go. Luke would shove his face down into the pillow to hide his reaction. In watching this hot, 18 year old boy take a dick up his ass for the first time, I could tell that he was a power bottom ready for so much more on camera. His cock was staying rock hard while being fucked, and so I was ready to see him shoot his load. Luke road Cody's cock one more time, and while he was going up and down he was also busy stroking his dick. Moments later he let out that he was going to cum and started to spray his load all over Cody's chest. Covering Cody in cum, and I was ready to see what kind of load Cody would have after that. Continuing to lie there Luke was trying to get his dick hard, but after a few minutes he admitted to me and Luke that he had fucked his girlfriend the night before. With that I told him he wouldn't get the full amount and because I wanted to see a load from him in this shoot that didn't happen he had to take the dick up his ass. Cody leaned over and said that it was going to be his. I will see when I can get each of them to come back into the studio.