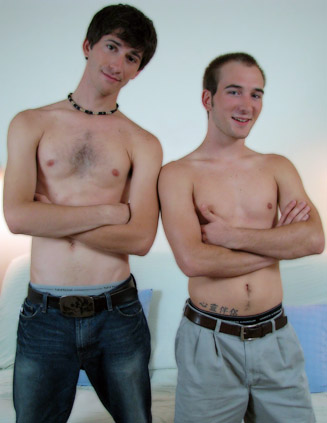 We do get members who will write into us, and say which models they would love to see together. When we can we try to see if we can make it happen, but it's just so hard to do every time that someone writes in. Every once in a great while we get a member who will send us the money it takes to pay the models to do a shoot for them. The last request we got was to take the two different Jacobs that we have working for us and put them together. I made some calls and told each of them about the email that we had received and asked if they would be interested in doing a shoot. Both were, because they do like to be in front of the camera putting on a show, and they also love the money. I gave them a time for them to be in the studio to do a shoot, and we were all set. The day when they arrived at the shoot, both were in great moods and liked the idea that a member wanted to see them particularly. Once we started filming we went over why we were doing the shoot, and what they would be doing. I knew that this was going to be confusing with both guys named Jacob, so the one on the camera's left was Jacob #1 and then on the right was Jacob #2.

Jacob #1 does happen to be married and he got into telling us how he only was married for a short time before they took a split. Part of the problem was that she found out about him doing porn, and some other things. Recently, though they have decided to try and working things out and have been back together. Jacob #2 has been with his girlfriend for two years, and said their relationship is really strong. That hopefully someday down the line they will get married and that he would like that. Both guys did say that they could use the shoot money to just make a difference paying for some things. With that they were ready to get started, and of course first thing to go was their shirts, and pants. Jacob #1 was going to bottom for us, because he has done it before and prefers it. I had him spin around and show us his smooth butt that bounced when he slapped it. Moving over to the other Jacob, I told him that members comment about his ass as well, and he said that he knew. Turning around he pulled his underwear down to just below his cheeks so we could get a peak. Yeah, it's a bubble butt for sure.

Stripping out of their underwear the guys took a seat on the couch, and began playing with their dicks a little bit to get them hard. I knew that my next request might be too much for them, but I wanted to see them kiss. Jacob #1 didn't have an issue with it, and brought up the fact that Jacob #2 was going to fuck him, so kissing was nothing. I pitched in some more money and they both turned and looked at each other. Jacob #1 did more of the leaning but they went in for a kiss, and began a passionately kiss with a little tongue as well. Towards the end of the kiss, Jacob #1 reached over and was jerking the other Jacob off with a hand job. When the kiss ended he lowered his mouth down to Jacob #2's dick and started to give him head. After a couple of minutes he sat up for a break, and Jacob #2 leaned over and returned the blow job. Both guys were doing a great job and seemed to be clicking well with one another. To make sure that they were ready to fuck, Jacob #1 gave oral one more time to get Jacob #2 to get him as hard as possible.

We got the room ready and the guys started out in the doggie-style position. Jacob #1 was a pro so he could take the whole cock with one shove and no problems. Jacob #2 worked up very slowly to a very steady pounding that fucked Jacob #1's ass really hard. The guys kept going for a while and to change things up on their own they kind of sat back, and Jacob #1 went to more of riding the cock position. One that I know he likes for sure, and to top the shoot off they did one more position. Jacob #1 turned over onto his back and they kept the fucking going a lot more intense in this position. It was a lot easier for Jacob #1 to jerk off while he was getting fucked and my hope was that he would shoot his load while getting fucked. His dick was sure getting hard the longer they went on, and there was a lot of moaning coming from him. However, it was Jacob #2 that shout out that he was about to bust a nut, and that he did right on the stomach of Jacob #1. We only had one more cum shot left to go, and Jacob #1 tried to concentrate on shooting his load. The other Jacob would touch him and play with his balls, and especially licked one of his nipples. Sure enough Jacob #1 shot his load all over his hands and lower pubic area. After that he even tasted some of the cum on his arm that was from Jacob #2, and said that it didn't taste bad. After that both the guys were ready to hit the shower and clean up.