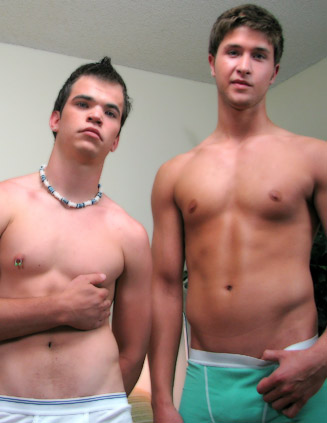 I got a call from Jay a model that had been on broke straight boys before and he said that he had a straight buddy of his that was looking to make some money. I saw some pictures and decided that I would bring them both into the studio to do some work with us. When the day came that we were to do the shoot I had the boys on the couch and we started getting to know them both a little better. Jay brought along his friend Holden, who he was friends with during High School in Alabama. After High School though they both went their separate ways to go to college, both kept in touch with one another. I asked if Jay happened to tell him what we do here at our production studio, and he said that he didn't know much. Jay looked at me and said that he would let me explain and knew it was going to be a surprise. I explained that we have a site broke straight boys, and we film guys doing things for money that they typically wouldn't do. Holden confirmed that he was straight, has a girlfriend, she is pregnant, and to top it off he happens to be completely broke. I told him that I would want him to do something that might make him uncomfortable like having sex with his friend and he would make some money for doing it.

Right away Holden wanted to know how much money I was talking that he could make, and I got into the details about what we had to offer. He said that there was no way he was going to do any BJs or sex, about the only thing that he was comfortable with was jerking himself off. I made sure that it was okay for Jay to be sitting next to him jerking off, but to add to the scene to make it a little more interesting to watch I invited Logan into the room. Logan was at the studio waiting to do another shoot after this one, but I figured that I needed to call him into action a little earlier than planned. Logan came in and took a seat on the couch next to Holden. Holden said that he would be fine with the two guys naked as long as there was no touching, and that he actually had done circle jerk type stuff with friends growing up. Even sometimes with cousins and friends. I found out that Logan had a little brief touch of fame when he was spotty walking around in public a couple of weeks ago.

To keep things moving along I asked the guys to stand and for them to take off their shirts, and I paid more attention to Holden since he was new to this. Underneath his shirt he was very tone and had a nice chest. A six pack abs, and the V-lines as well. All three guys got down to their underwear and I also pointed out that Logan had been spending some time in the gym as well working on getting toned up. The guys took a seat on the couch and we settled on me putting on some straight porn for them to watch. All of them reached inside their underwear and started to play with themselves. I didn't keep them in their underwear for long, and when all three were naked on the couch it was a lot more entertaining to watch. I gave them a contest to add to the shoot in that I would give different amounts to the order that they got off, so it was a race to see who would go first. Watching them, Jay and Logan both had rock hard cocks and Holden in the middle was trying.

Jay let out that he was getting close to shooting his load, and so when I moved over to see, sure enough he shot his load right onto his lower stomach and leg. The other two guys were stroking hard to go next, and so we just had to watch and wait. Holden was a little more tensed up while jerked off and every once in a while he would have to readjust himself on the couch. Logan was a lot calmer and relaxed keeping the same pace as he jerked off. Logan let out that he was going to cum and sure enough right then he did. Now, all the pressure was on Holden to blow his load, and the other guys just sat there, but continued to play with their dicks a little bit. When Holden started to make faces I knew that something was up, because I had never seen faces like that before. Without really saying anything or doing anything else, Holden shot his load. He came a pretty decent size load onto his stomach, but because he was so white it was hard for it to stand out. Looking over at Logan he was jerking off again, and he let out that he was going to cum for a second time. Sure enough he did, and I thanked them for the good show. Afterward I asked Holden what he thought and he said that he just might need some time to relax a little bit and we joked because the guys weren't family. He just needed to relax around Logan was all, and that he would be interested in hearing what might be next.