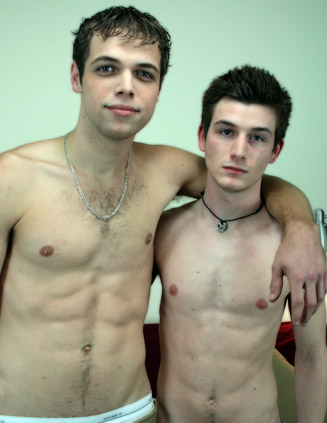 In my latest pairing of models I put Drew and Diesel together; which both have done shoots with us before. I asked both of them if they really needed the money and the response I got was a definite yes. Drew spent his last shoot check on bills to try and get ahead for the month. Diesel on the other hand spent his on partying, so he now needed to take care of shit that he was behind with. I told both them in the shoot that I needed to see them do oral, and both didn't seem to mind as long as they were making money. Diesel said that he still has his girlfriend and that she doesn't have a clue what he has been doing to keep the income coming in. Drew mentioned off camera before we started taping that he has seen a couple of guys on the side since his last shoot. It has been three guys and Drew brought up that he likes guys a little more than girls right now. Diesel on the other hand only messes around with guys in the studio and being on camera has left him open-minded to trying new things.

I asked the guys to go ahead and start getting undressed for me, and told him only to go down to their underwear. Someone in a bidding competition won the underwear that Diesel was wearing and so they were going to be a lucky camper after the shoot. Taking a look at Diesel he has been spending some time in the gym working out and trying to get more tone. He even had a little bit of a 6 pack going on with his stomach and I wanted to give him kudos for making a change in his health. The boys took a seat on the couch and I told them that I was going to put on some bi porn for them to watch to keep them both happy. Both guys just lightly started playing with their dicks in their underwear, and then after a few minutes I had them remove them for us. I explained to Drew that in a few minutes he would understand why we sometimes refer to Diesel as gigantor. Since Drew was going to go first at giving oral I told him to go head, and he turned to face Diesel. He leaned over and put the dick in his mouth and started to suck the tip at first. Then, he worked his way to taking as much of it in his mouth at one time as he could.

Diesel started to move his head around and moan a little bit, making it seemed like the blow job was going pretty good. Moving down onto the floor Drew got in a more comfortable position and took the dick in his mouth once more. As he was giving head, Diesel put his hand on the back of Drew's head to place him to deep-throat. Drew was able to do it for a lot longer than I thought he would have been able to. After that though was when Drew paused and reached for the bottle of lube. Taking a handful of lube he put his hand around Diesels throbbing dick and started to stroke it slowly. Right away, Diesel took a deep breath from the rush he just felt showing that he liked it. Trying to keep a fast pace Drew kept jerking as fast as he could. Before I knew it Diesel let out the warning that he was going to cum, and Drew kept going with the technique he was using. Diesel came spraying cum all over his stomach and I told Drew that he did a great job, and now it was Diesel's turn to return the favor.

After Diesel wiped off, Drew sat back and Diesel put the skinny, twink boy's dick in his mouth. After Diesel got the cock hard from oral, Drew got a little dominate and put his hand on the back of Diesel's head. Something that I knew Diesel probably wasn't going to put up with for long, but Diesel jerked Drew off in between doing a little oral. At one point Diesel spent more time jerking Drew off and Drew's body started to shake a little bit. Sure enough Drew started to have an orgasm and was going to blow his load. When he came most of it went onto Diesel's hand but some also went on Drew's stomach and lower pubic area. Obviously, Drew happens to be very sensitive to touch, and after shooting his load Diesel kept jerking making Drew squirm on the couch. Diesel thought that it was funny to watch. I thanked him for the good show and invited them back for more work.