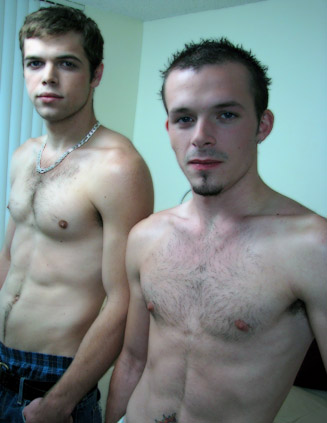 Diesel started with us only really interested in doing solo work. From there, I slowly introduced him to doing more scenes with guys, and also him doing more interaction with the guys. Over time he started to not mind it as much and kept in open-mind that was to the point of taking a dick in his ass. I would ask and we would talk about it every so often, but the conversation always lead to a "not now" or a "I will think about it." Well, I finally told him that members were really wanted him to try it for the first time even just to see if he would like it. In long talks he had concerns about the pain, the cleanliness of it, and for the fact he only did the scenes with guys because he wanted to get a check and go home to his girlfriend. The talks started to sound hopeful, and I actually ended up giving him a couple of butt plugs to try to get him to practice. We decided on a day, and I asked him who the model was that he wanted to top him. Diesel's final decision was Jimmy, a guy that he had done an oral scene with a while back.

The day of the shoot both guys showed up at the studio, and Diesel seemed really freaked out and nervous. I set aside ample time to do the shoot, knowing that Diesel was going to need lots of time to relax. The two guys took a seat on the couch, we talked very briefly about how things would go for the shoot, and then I started filming. As you watch the shoot, I believe that Diesel's domineer speaks for itself. We talked about how this was a long time in the works, and that I was just going to let them do their own thing while I filmed. With that being said the two of them turned their heads towards one another and leaned in. Lightly their lips touched one another's, and their tongues worked their way into the kissing as well. The kissing worked its way up to being more passionate. Diesel and Jimmy paused for a moment to take off their shirts, but continued touching one another as they got undressed.

They were both left standing after they dropped their pants and rubbing each other lightly, Jimmy had Diesel lie back on the couch. Climbing on top of him, Jimmy kept the kissing going until he broke free and began to run his tongue down Diesel's neck, chest, and abs. He used his mouth over Diesel's boxer shorts, and then with his teeth he pulled them down. Both of them used their hands to help, and Jimmy picked up the dick and put it in his mouth. Using his mouth he sucked on Diesel's cock to get him hard, and it wasn't long before the cock was a full on boner. When Diesel was turned on he tried to reach for Jimmy's dick to jerk him off at the same time, but was having trouble reaching. That was when the two of them got more in a 69 position and both gave oral at the same time. Diesel seemed to do rather good at giving head, and was copying some of the things that Jimmy did.

Pausing Diesel stopped and lifted up his head and the two started to change position that was when they decided that they were ready to start fucking. Diesel made the comment that he was about as ready as he ever was going to be. Applying lots of lube to his ass, Diesel handed the bottle of lube to Jimmy to ensure that there was enough lube Jimmy's dick. Starting in the doggie-style position they were in place. I reminded Jimmy to make small movements at first to make it easier on Diesel to begin with. Pressing forward Jimmy was able to get the tip of his dick in, and only pushed about a half an inch in at a time until most of his cock as in. Once Diesel relaxed Jimmy began pulling out and pushing back in. The two of them were fucking, and Diesel was taking his first cock in the ass. He didn't make much noise, but that didn't matter because Jimmy moaned from how tight Diesel was. When I moved up to catching Diesel's face on camera it was a blank look, kind of like he just wanted the shoot to be over with. He didn't give off the impression that he was in a bunch of pain though.

After a while they switched positions, because Diesel didn't want to hold himself up any more. Rather than take the chance that Jimmy wouldn't be able to get back in after all of that, the two got more into a spooning position on the couch, which still allowed for me to catch most of the penetration on camera. They fucked at a steady pace, and not too rough. After a while though Diesel told Jimmy to stop and that he had enough fucking. Diesel made the comment that it felt weird and not exactly how he thought it would have. Diesel just rolled over onto his back, and Jimmy got up in his knees. It took Diesel less than a minute to get ready to cum. He gave me a warning and then blew his load. After that the pressure was on Jimmy to finish. It took him a while, but he ended up dribbling his cum onto Diesel's stomach. After the shoot was done, Diesel said that there was a chance that maybe he would bottom again in the future. However, he didn't want to talk about it anymore, because he wanted to get in the shower and wash all the lube off.