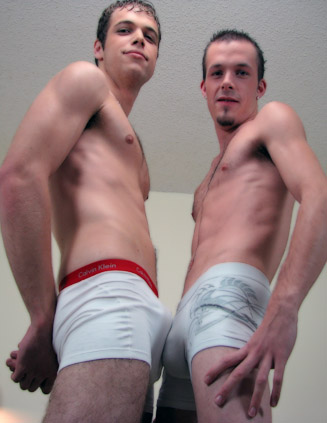 It took me a little while to work my magic, but I was able to get Diesel and Jimmy back into the studio at the same time. We had talked on the phone to work out all the details about the shoot, but it seemed like they couldn't really make up their mind. The day of the shoot the plan was that I wanted to see anal and I left it up to them to work out which one was going to bottom and which one was going to top. It took a while, but I finally heard my name yelled down the hall. When I came in they were ready to get started. The plan was that Jimmy was going to bottom first, and then when Diesel was ready he would give it a shot. After I explained how much they would get paid, I asked what they planned on spending their money on. Jimmy said that he needed to buy some things for his apartment, and Diesel said that it would go towards his car payment and some towards partying.

To get started they took off their shirts and I told them that they seemed to be into the kissing. Why not start off with that and work into the oral, Jimmy was all to egger to get started. Both lied back on the couch facing each other, with their lips locked. As they kissed they rubbed each other's bodies and it was clear that they were each getting turned on. It was Jimmy who started to go for Diesel's belt first and undoing his pants. Diesel proceeded to get Jimmy out of his pants as well. The two of them got down to their underwear and they were rolling around kissing. It was great that they didn't waste much time before they took off their underwear. Every so often one would break from kissing, and would lick a nipple, or would suck on an ear. They were being very passionate in what they were doing, and you could tell that they were blocking me out of the picture for most of it.

After a while of each of them getting head, Diesel and Jimmy were ready to give anal a shot. Jimmy wanted to start out on his back considering that this was his first time in bottoming, and so he wanted Diesel to go slow. Diesel has a monster cock and so I wanted him to take it easy. Pushing his cock in the very tight hole, it was proving to be a little bit of a challenge for both of them. Diesel would get in and then after a couple of thrusts forward, his dick would get pushed out. Then, when they got to the point that they were fucking, Jimmy would need a break from the pain. It was hot to watch them, because they continued to kiss one another and keep the contact going throughout the shoot. I made them change positions, because I wanted to see if they could try something else. The plan was that Jimmy was going to ride Diesel's dick, and so Jimmy reached in behind to guide the dick into his ass once more.

Slowly he sat down on his dick and they were fucking once more, they actually were able to pick up some speed and fuck kind of crazy. However, it seemed like with Jimmy's asshole so tight, that it was difficult for Diesel to keep his dick hard. Going back to the other position, they were able to get started much easier this way, and we got to see some rough sex. Diesel even started to show some dominating features when he grabbed a hold of Jimmy's throat while they fucked. It wasn't long before Diesel pulled out, because he was getting close to cumming.

Taking off the condom, he jerked his cock with only a couple of strokes before he started to shoot his load. He came several squirts out onto Jimmy's upper chest, and after that was when Jimmy came as well. His load went all over his hand, and the two guys were left sweaty and hot. They leaned together and kissed to finish the shoot. Before they left for the day I wanted to talk about Diesel bottoming soon.