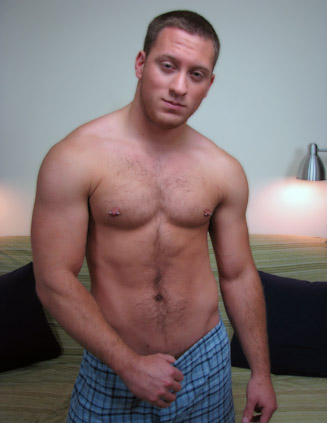 Meet Caleb a 21 year old college student that is on his last year of school getting his major in Psychology. During his casting couch shoot he shared that he finds different ways to come up with money on the side in order to get by while going to school. That was how he found us, with a little word of mouth and our site. He told me that he is straight, and has a girlfriend, who doesn't know what he was doing to make money. I explained that he was just doing a little jerk off session for us, and then from there we would look at pairing him up with another guy. Caleb didn't seem too excited for that news and said that we could talk money afterward. I had him stand for me, and as he took off his shirt he revealed a very muscular chest. Caleb did have a hairy chest, but it was neatly trimmed as to not hide his dedication to the gym. His 4 to 5 days a week in the gym really showed, and he said that he likes to play soccer and basketball. When he said basketball I couldn't help, but question his height. That was when he told me that he was 5'9", and his nipples were pierced as well.

Keeping Caleb going, I had him take off his shorts, to show the pair of boxers that he had on underneath. Making him turn around I had him show his ass to the camera, because from what I could tell there was some bubble there. Pulling the waistband down in the back, his muscular ass looked to be very firm from all his working out. We went over the different exercises that he does to keep in shape, and then I explained what was going to happen next. Taking a seat on the couch Caleb started to play with his dick to get it hard, while I was busy getting the porn on for him to watch. Turning around I found that he was pulling and stroking his cock over his boxers. Then, after a bit he stood up and dropped the boxers to the floor. I do have to say that Caleb was very confident and that made him put on a good show for us. Lifting one leg up onto the couch it made for a great view of his balls and even a peak at his tight, virgin ass hole.

It has been a while since I have seen a model that has enjoyed playing with his balls as much as Caleb, but it didn't stop there. As his dick became harder, he would smack it against his hand and upper thigh, something that I see a lot of straight guys do. I never really had to tell him to move around, Caleb was great at giving me lots of different angles to shoot as he jerked off. I did seem him play with his nipples even though he said that they weren't very sensitive. He was a moaner, a dirty talker, and seems to enjoy sex. As I watched him jerk off I couldn't help, but wonder what he would be like getting fucked in the ass for the first time. Getting into a more seating position on the couch he started to really beat his meat, and rub one out. I figured that he had to be getting close to shooting his load. His breathing kept getting faster and louder, and then he gave me the warning that I was looking for. Seconds later he came, shooting cum out in drops onto his stomach. A majority of the cum dripped out onto his stomach. So, it's safe to say that we got a little bit of everything from this shoot. I told him that we would pay him a little bit more because he did such a great job. We will talk off camera and see if we can get him back into the studio to do some more work here soon.