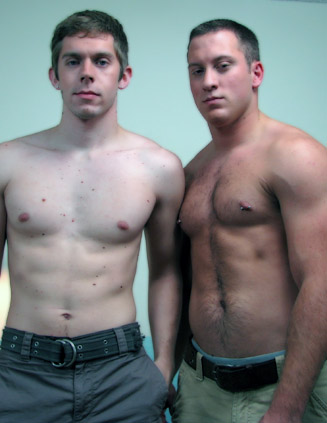 I paired up Scott and Caleb to do a shoot together, because neither one has ever done anal before. Caleb is our straight boy who said that he would try anal, and I knew that was just because he was hurting for money right now. Scott on the other hand wanted to gain some experience with guys, plus I knew that he won't turn away some cash to do it as well. Caleb mentioned that nothing has come close to his ass and that he basically wasn't ready for anal yet. The way that he left things was that there might be a possibility in a future shoot for him to take a dick. Scott on the other hand was ready for anything that could happen, and he knew that it was just going to be a little uncomfortable to start. I brought up the good news and that was pay, because I knew that would get them excited about what they were about to do. Topping in the shoot was going to make one of them $1000 and then bottoming in the shoot was going to make the other one $1500. Right away, Scott jumped at the chance to take a cock up the ass for the first time in order to make that size of a check.

With that being said the next thing that we needed them to do was start getting undressed. Both guys stood up for me in front of the couch and peeled off their shirts. Looking at each of them I could see that both spent some time in the gym working out from the muscle tone in their chests. Scott said that he goes pretty much every other day. Caleb on the other hand goes every day, and it showed. He keeps his chest hair trimmed and that adds to showing off his chest as well. Going for their shorts, I thought that maybe Scott wasn't wearing any underwear from not seeing a waist band. I was wrong, he had on a pair of brief-shorts, and Scott got into how good they looked on him and the fact that they were comfortable as well. Both guys took a seat on the couch and reached inside their underwear to start playing with their dicks. They wanted to watch some porn to get stimulated to begin with, and we went with one of Caleb's favorite scenes to do that. A threesome between all girls and one of them was a naughty school girl.

Caleb mentioned that he wasn't going to be sucking any dick, so it was all up to Scott to take one for the team. I told Scott to go ahead and start giving oral to Caleb to get him hard for the fucking. Scott got up and moved to being in front of Caleb on his knees. He started with first licking the hard cock, and then placed as much of the dick in his mouth as possible. Caleb grabbed the back of the couch and enjoyed the blow job, and it was only after a couple seconds into it that he said that it wasn't that bad. This was his first time getting oral by a guy, so for him this was going to be a lot of first time experiences. The blow job was going really well, and so to top it off I had Caleb stand for me when I thought that he was hard. Caleb had a nice size cock that was thick and straight.

The two of them got ready to fuck and it was a team effort to get the couch into a bed and everything that was going to be needed right there at the bedside. Climbing onto the bed, Scott was thinking of how he wanted to start out and like most he went for the doggy-style position. Caleb moved in and was ready to treat Scott's hole like it was a pussy. He didn't hold back pushing his cock all the way in and started to pound away on the virgin asshole. When Scott tried to pull away the first time Caleb pulled him back by his hips and kept going. One thing was for sure between the two of them this wasn't going to be a quiet shoot for sure. Both were very loud when it came to breathing and were into the scene. Caleb wasn't able to pull much of his cock out of Scott's ass just because of how tight it was, but it was just going to take some time for Scott to relax.

Trying another position Scott flipped over on to his back, and his legs were resting against Caleb's chest. In this position Caleb was able to fuck a lot easier and I was able to show much of the penetration a lot easier. Scott worked on stroking his dick in order for him to get off, and he was on his way to getting hard. All of a sudden I heard Scott yell out that he was about to cum, and sure enough he shot his load right then. When he came most of it ran down his hand, but it was hot to watch him be able to get off from being fucked. Caleb kept fucking for a while and Scott moaned even louder after he came, but he started to become too sensitive to keep fucking. Caleb pulled out and started to jerk off over Scott to blow his load. It took a minute or so, but he shot his load all over Scott's stomach and then wiped off the tip on Scotty's belly. Both guys did a great job, and it was hot to watch these to jocks get it on together.