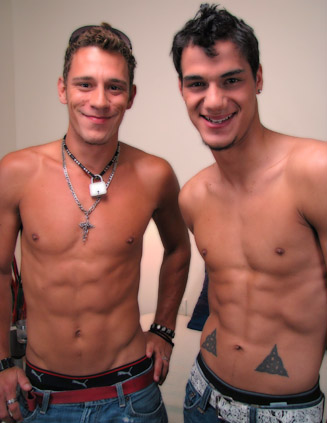 Kaydin and Tom have known each other for six years and to top that off both have been laid off from work. With no money coming in they were quickly getting behind on their bills and wanted to find a way to make some money. They gave me a call and we discussed what I would be able to use them for. Both agreed to giving oral a try when they would do the shoot. We setup a date for them to come up to the studio. When both guys arrived they seemed a little tired, so I actually gave them some downtime to just chill and relax before we were to start doing the shoot. Taking a seat on the bed, Kaydin sat on the left side of the bed and Tom on the right. Going over an introduction we talked for a bit about what they have been up do, and were going to be doing in the shoot.

As I started to give them both instructions to get undressed, I could sense that they both were getting nervous about doing the shoot. This was going to be the first time that either one would give oral to a guy before. Getting undressed both of them started to take off their shirts, and of course Kaydin didn't have much to do with his shirt already being half unbuttoned. When his full chest was exposed, he was HOT! Tan skin, tone chest, nice 6pack abs, and smooth all over. Tom's chest was tan and tone as well, and he too had a nice stomach. I didn't have to tell Tom to keep going, he went for his pants next. Kaydin was being a little shyer about things, but he stripped out of those to get caught up. Both guys paused when they got to their underwear thinking that I was going to give them a minute to get their dicks hard. However, I didn't want to give them much time to think about things, just to do what I said. Peeling off their tight boxer briefs that they had on; their bare naked bodies were exposed to the camera.

I gave them only about a minute while I turned on porn for them to watch during the shoot to help get them hard. As soon as I turned around, I told Kaydin to go ahead and start giving head to his buddy. He was feeling a little hesitant to do it, but since he gave me his word he was going to do it. Taking Tom's soft, limp cock in his hand he jerked it a couple of times and then lowered his mouth. I told him to suck it just like he liked to have his dick sucked. With that, he put the cock in his mouth and started to swallow it. As his head went up and down, I could tell that Kaydin was able to use a lot of spit to lubricate the shaft of the cock to make it easier to suck. Besides just oral, Kaydin got one of his hands in there to jerk off to help stimulate Tom's dick as well. Kaydin was doing a great job giving head, and a couple times Tom even let out a couple of moans. Trying to deep-throat as much as possible, Kaydin was starting to gag on the cock, and that was hot to listen too. After a while though, he was getting tired of sucking and jerking and he asked Tom if he was close to getting off.

Kaydin kept it up giving head and jerking and wasn't complaining, but finally at one point I just told Tom to take over and watch the video. Watching him do his thing, his body turned red, and his muscles were tightening. Tom started to have his orgasm and shot his load all over his hand, and it ran down his cock. His cum looked more like a cream, and like it would have been a mouthful for someone to take. I handed him a towel and told him to get cleaned up, because it was Kaydin's turn for getting some head. Tom said that he would do it, so he positioned himself at Kaydin's side and lowered his mouth down to the tip of the cock. Taking a little bit in at a time, and before long he was swallowing most of the cock in one swallow. Kaydin told him to keep up with it and to jerk him off as well. Pausing for a moment, Tom commented on the size of Kaydin's balls, and resumed giving oral. Trying to be funny, Kaydin asked if he could give Tom a hard time getting off as well, since he had go for so long. I told him no, and with that Kaydin started to thrust and fuck Tom's mouth and hand.
It was hot that Kaydin was a dirty talker while he was getting head, just because that made it a little interesting with it being his buddy sucking his cock. Giving a warning that he was getting close, Tom kept going with the oral and then changed to just giving him a hand job. Right before Kaydin came he took over stroking, and he shot his load up onto his stomach. With that both guys were tired, sweaty, and ready for a shower. I asked if they would like to come back to do more work, and the response I got was a yes. The only thing that I warned them was that I was going to have to break them up, and it would be for the better so that their relationship didn't get awkward.