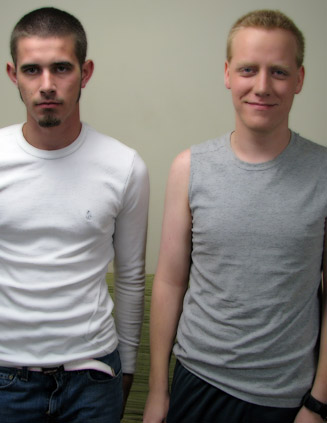 Let me introduce you to two new guys that we paired up to start together here on Broke Straight Boys. Kevin, who is 19, straight, has a girlfriend, and very broke. Sitting next to him on the couch was Ben, who is 18, straight, single, and broke as well. Starting with telling Kevin's story he worked for a medical supply company, and they did a round of layoffs, and he was let go. Instead of spending his money slowly, he kind of shot right through it, leaving him in the situation he happens to be in now. Him and his girlfriend both live at home with their parents, and they would like to move in together to get their relationship to jump to the next level. When I asked him how he came across our company he said that he got word through a friend of a friend who talked about the money. Moving over to Ben, he said that he was working two jobs, helping out with the mortgage payment, and paying his car payment. When he lost his jobs, he wasn't able to help with the house payment, and he wrecked his car. Now, Ben was just trying to pull through everything in order to try and keep the house and car.

I explained to both guys that they would be doing a little casting couch type shoot, and so I told them to take off their shirts. After they did I noticed that Ben was pretty much the same color from head to toe, WHITE. Kevin on the other hand had a little bit of color to his skin, and he said that was all do to being outside in the sun skateboarding. Continuing on they stripped off their pants, to get down to their underwear. As I put on the porn for them to watch, I told them to start touching their cocks to get hard. As they did, I asked about their dick size and it sounded like Kevin was a little bigger than Ben. After a minute or so, I could tell that they were on their way to getting boners. Finishing stripping out of their underwear, they continued on playing with their dicks. I asked if they would be interested in doing a little bit more in the shoot like oral or jerking off. Neither one wanted to go that far for their first time. I pointed out the lube bottle that was sitting out on the table for them to use. Kevin did this combination where he played with his balls and stroked, using both hands.

Ben was starting to turn red as he played with his dick watching the video. Both guys were being really quiet and starting to stroke a lot faster now that they were hard. All of a sudden Ben yelled out that he was going to cum in excitement and I told him to go for it. Stepping in closer for the shoot, he came dribbling his load on his lower stomach that was thick and white in color. Moving the camera over to Kevin I could tell that he was feeling some pressure in that he had to get off now. Pumping his dick in a downward motion he was moved it in every direction and kind of moved his body around at the same time. His dick started to go limp a little bit, but he just pumped faster, and his face and shoulders were turning bright red. I just stood back and let him do his thing and that allowed him to start to get off. Shooting his load on his stomach, I was able to check most of his cum shoot. Afterward both were tired, sweaty, and the room smelled like cum. Both guys said that they would be down for doing a little more in their next shoot, so we will just have to wait and see.