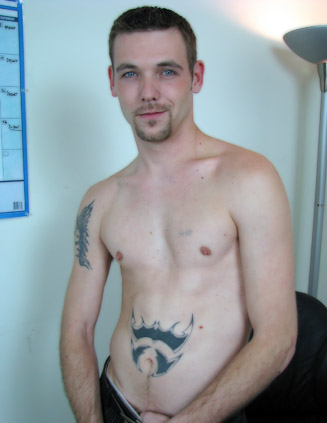 EJ called me up from an ad that we run in the newspaper to see if we take any appointments or walk-ins for interviews. Interviews are hit and miss with me, because I can waste a lot of time waiting for people who decide not to show for an interview. However, EJ seemed to be really interested in the work, and from the body stats that he described over the phone he sounded like what I was looking for. We setup a time for him to come by the studio office later that day. When he arrived I had him start with filling out a paper application and as he did that, I grabbed one of my video cameras that I had setting by. As EJ finished and handed me the paperwork, I videotaped us talking to see how he was going to do in front of the camera. The first thing that I noticed was that he was 24 years old, straight, and had marked that he wanted to do work on broke straight boys. I could tell that he was just after the money he could make doing the shoots. EJ works for a construction company that has brought him down to south Florida.

I explained to EJ that he had a potential to make a lot of money if he was willing to do shoots with guys. When I brought up the different things that he could do on camera I got yeses all around. The plan was that he would travel back and forth to do the shoots. To help him out with gas, I told him if he saved his receipts for gas and tolls, I would reimburse him that money. To get an idea of what he looked like I had EJ take off his shirt for me, and underneath he had a bunch of tattoos. One of which, came on a bad party night I found out. Next to come off was his shorts, and dropping them to the floor he stepped out. Standing there in his boxer briefs I told him that I wanted him to get hard, and from there he would cum for me. After that we would setup another time for him to come back and do another shoot with us, and that one might be with another guy. EJ nodded his head yes, as he had one hand down his pants playing with his dick.

Stripping out of his underwear EJ was left standing there naked in front of the camera for the first time. Turning around I had him show his ass, and his backside was smooth, white, and he had a round, tight ass. Taking a seat in the chair as he started to stroke and play with his cock I turned the monitor around on my computer for him to watch some straight porn. Sitting at an angle it was great for me to get to see how hard EJ was getting. I couldn't help, but get a snap shot of the broke straight boys banner that I had on the wall behind my desk. EJ said that his dick was around 8 inches hard, and I made him stand to give me a better shot of his size. After a while though he took a seat again in the chair and after a few minutes of jerking he said that he was ready to cum. In excitement his voice tone changed and so did his breathing. EJ came on his stomach shooting his load all over the tattoo around his belly button. He did a great job and for not getting off in two weeks he was relieved. EJ said that he would come back and do a little more in the next shoot, so we setup a time for him to come by. He seemed to be down and ready for whatever I would throw at him with another guy.