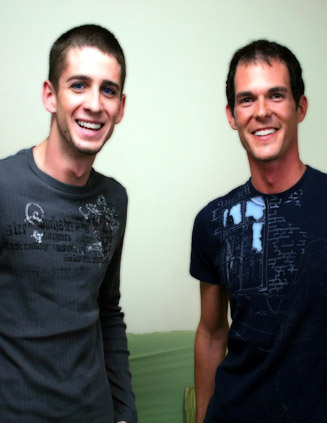 I got a call from Alec who wanted to know if I had any more work for him, after he had done a solo shoot with us. Being upfront about it, I told him that I wanted him to do an oral scene with a guy. There was a pause on the phone, but when I told him he would make more money he agreed. We setup a time and date for him to come by the studio to do the shoot. Later that week Alec showed up for his shoot, and I had paired him up with Hayden who was a friend of a friend. I moved them over to the couch, so that I could introduce them to one another on camera. I explained that Alec was straight and that Hayden was gay. Alec has a gay friend, but never been hit on by a guy before. I explained that Hayden was going to jerk him off, and give him a blow job in the shoot. Hayden had never been with a straight boy before, and this would fulfill one of his fantasies. I told him that I would go ahead and pay them both the same to give me a really good shoot.

I told Alec to take his shirt off, and I asked if he would kiss Hayden. There was a quiet moment, but he said sure as he sat back on the couch. Alec used a lot of his tongue, but they kissed for a minute and it was hot to watch Alec playing the shy boy. I had them both stand for me, and had Hayden undress Alec as part of his fantasy. Alec was standing there completely naked, and wanting Hayden to get undressed to make it seem a little less awkward so far. Starting with the oral, I had Hayden go ahead and drop to his knees. Hayden gave a slow, steady blow job, and Alec's dick slowly started to get hard in Hayden's mouth. Alec got completely hard and he put his hand on Hayden's head making him suck dick even more. I didn't want Hayden to miss out on getting something from the shoot, so I told Alec to play with Hayden's dick. Alec was starting to talk a little bit as he got the blow job, letting me know that he was liked it.

After a while I had Hayden just mostly go to jerking him off so that we could work on getting Alec to shoot his load. Although, I think the more that Alec seemed to like the blow job the more that Hayden got into giving the oral. Alec went to jerking himself off, while Hayden sucked on his balls and just kind of rubbed his hand around them as well. Giving me a warning Alec was about ready to shoot his load, he pointed his dick forward as he stroked and shot his load right there on the couch. He came a lot, even got some on his hand and dick as well. Alec was just shy around Hayden, but he did a good job for his first time at being touched and sucked by a gay guy. Hayden did an awesome job, and I told him I would use him again. I asked both of them if they would come back again to do some more work, and since Hayden didn't get off I wanted to see them come back to do some fucking. Hayden is a top and bottom, and when I told Alec I wanted him to bottom. There was a long pause, and we ended with him going home to think about it for a couple of days.