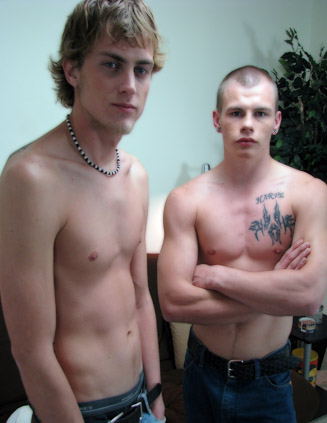 I brought back Shane and Nathan to do a shoot for us, and while they were in the studio we just talked for a little bit before we actually started rolling the camera. Shane has asked if I would hang up his shirt in the studio to see if we could sell some to the models. As he was doing his little pitch, Nathan said that he would buy one, and he actually put it on to show his support while they did the shoot. When we got started they both were sitting on the couch next to one another and both got introduced. They showed off the shirts, and I explained to both of them that I wanted them to make some money. I wanted to see them fuck, and so I knew that Nathan's still fairly new. So, I explained to him that I would give him a choice. He could make $1500 if he bottoms in the shoot or only $1000 to top. I honestly didn't know what he would pick or how I was going to run the shoot. He said that he would take the $1500, because he wanted the most he could make. Which was great, due to the fact that there was no way that Shane would get fucked. Neither one had ever been fucked by a guy before, so this was going to be Nathan's first time.

The plan was that they were going to get undressed do some oral and then we would move into the fucking. So, stripping out of their clothes, I asked what they did with the money that they made so far modeling. Nathan was the first to chime in that he has spent a little, but has saved the majority of it for school. As the two of them took off their shirts, I decided that I was going to give Shane the nickname Tank. Keeping the undressing going I had them go for their pants and to do that they both stood up and started to take them off. Both guys were in shape, had nice tone bodies, great abs, and appeal to all kinds of people. Nathan had the body of a jock, and had V-lines that made you want to touch them. Shane had more of a leaner build, and came off as more of a skater type. I had them take a seat as I explained to them that I wanted them to get hard, so that we could have all the action to take place. To do that I was going to put on a video, and they could leave their underwear on until then. I asked which one wanted to go first in giving oral, and Shane jumped to it in order to get it over with first. After that then Nathan would go to get Shane hard for the fucking. Both reached inside their underwear to play with themselves.

Watching the two of them jerk off, I made the comment that they looked hot next to one another. I told them both to drop their girlfriends and just go for a relationship with one another and Nathan shut that idea down real fast. It seemed like Shane's cock was getting hard, and Nathan was struggling a little bit. I told Shane to start giving oral in the hopes that might get Nathan hard. Shane leaned over to get started, but his hat was in the way. Tossing it to the side, he resumed putting the dick in his mouth. Even though Shane wouldn't admit it, he was getting better at doing oral and not bitching about it. With the limp dick that he had in his mouth, Shane was able to put it all in his mouth at one time. I knew that Shane wasn't giving the best blow job, but he wasn't doing too badly with it either. I told Nathan to relax more, and that was when he put his head back, and started to breathe. When I told them to go ahead and switch, that was a good place to take off their underwear. Shane peeled his off, but I made Nathan stand up just because his ass was hot. That virgin butt that was about to get fucked for the first time by a big cock.

Nathan took a seat on the couch sitting sideways and facing Shane. He leaned over put the dick in his mouth and started sucking. After a while Nathan was doing good at giving head and I could hear that he was using a lot of saliva. He used a combination of his mouth and hand, and I wanted him to keep going to make sure that Shane was nice and hard. When I asked Shane if he was ready to put a condom on he said yes. Everyone kind of paused while we got the room ready, and the two of them got into place. Nathan got on all fours and prepared himself for what was about to happen. Shane started with putting only a couple of inches of his cock into Nathan's ass at a time, but he went at a pretty steady pace. Nathan's ass was really tight and so while they fucked the two of them made a lot of noise. He was taking the cock better than I thought he would, because Shane was able to get it all in his ass while they fucked. Letting Shane pound Nathan for a while, after a bit I had them switch position and had Nathan get on his back.

Shane had to rework his way into Nathan's asshole, because of how tight he was and Nathan just wouldn't completely relax. From the noises that Nathan was making he was breathing really hard and off beat. He was just putting up with the fucking to get it over with. The two of them were hot to watch as they fucked and this straight boy was getting a good fucking. Grabbing a hold of the bed Nathan was doing a lot of moving around, and Shane leaned forward and placed his hand on Nathan's throat. I watched carefully to make sure that he wasn't actually choking him, but I think that he just wanted Nathan to not move around as much, so he could concentrate on what he was doing. All of a sudden Shane let out that he was about to cum, and I pulled out quickly to try to get the condom off. It took him just long enough that he lost his orgasm. He then had to lie down on the bed, and started to jerk off to the video to get back to where he was. After what was only like a few seconds, he came with most of his load going all over his hand and dick. I moved over to Nathan who was hard and stroking, he gave me a warning that he was going to cum. He shot his load clear up his chest, hitting one of his nipples and a line of cum went all the way down to his dick. I gave Nathan crap because in the one shoot he farted when he came. Both guys did a great job, and I left them alone for a few minutes to get themselves together to hop in the shower and clean up after the shoot.