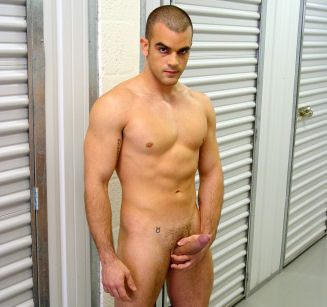 I had to go and get some videos and paperwork out of my storage unit. When I got there, I realized that I had forgotten my keys at home. I had the building manager, Sebastion, meet me at my unit to let me in. He got to my unit and he was one hot looking guy. Sebastion was young, very muscular, smooth, tan, with a great smile. He had me getting a boner, and my door wasn't even open yet. He unlocked the unit, and then I had him open the door for me. He bent down in front of me, putting his ass up in the air. It was very nice, and hard. I asked him if he wanted to do an interview for us and he said he could make some extra cash.

When I told Sebastion that I would pay him what he makes in one week of work for just jacking off, he jumped on that. We went inside the unit and closed the door. Once that was down, we pulled out a chair and he had a seat. Just sitting there in the chair, we were very relaxed and he had that I-want-to-jerk-off-for-my-money look to him.

Taking off his shirt, he revealed his nice muscular chest and rubbed it all over. Undoing his belt,
he slipped his hand inside and started to play with himself. When he thought that he had enough blood flow down there, he pulled his pants down and showed this huge cock, stroking it slowly at first and then picking up speed.

As he jerked off, he rubbed his body with his other hand-- sliding it up to his nipples and pinching them, working it down to his thighs, touching his balls, and then doing the same pattern all over again. Sebastion was enjoying this and getting into it. He started to jack off really fast, so that I know he was getting close to cumming. All of a sudden, his breathing got much quicker and louder. Shooting his load on his stomach, it was really thick and white. When all was said and done, I needed a towel just from watching him. He cleaned himself up, took his money and left to check the other units out. Hell, maybe I will have to take another model there with me next time I go. I look forward to checking my unit out on a regular basis now that I know Sebastion is there.