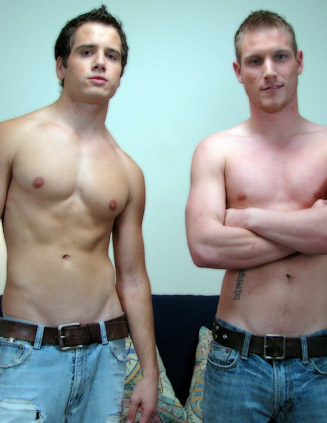 I love new boys on the site don't you? For this shoot, let's see how you would answer that question. Josh was 19 years old, straight, and broke trying to put himself through college. To make the situation worse he was two months behind in rent and the debt was just stacking up. He admitted that at this point he was desperate and needed to make some money fast. Just to make sure that he remembered, I told him that we're a gay owned and operated studio and that we might ask him to do things with other guys, but in turn for doing that he would make more money. He said that he was open to considering what we had. To begin with though I told him that what he would be doing was more in the lines of a casting couch solo where he would just be jerking off. Getting started I needed him to get undressed for us, and that meant starting with his shirt. He stood up and started to unbutton his shirt, and as he did that revealed this smooth, tan, shiny chest that made you just want to lick it right there. Josh said that his hobby was working out in the gym using weights, and all his work showed off. Between his nice chiseled pecs, V-lines that made you so turned on, you could almost cream thinking about what they pointed to. Just for a teaser I had him show his ass and keep his underwear on for a little bit longer.

Josh revealed that he fantasizes about fucking a tight, wet pussy, of a girl with burnet hair color. No girlfriend, because he likes to play the field a little bit and not be tied down. As I started to explain to Josh that I had another shoot setup after his, there was a knock at the door. Ridge showed up a little early, and he was supposed to do a shoot with a guy that ended up canceling just like a half hour before Josh's was set to start. My proposition for Josh was to let Ridge just jerk off next to him. However, Josh was starting to freak out a little bit on me. Ridge was straight and has been with us before, and has got comfortable enough that we consider him gay for pay now. I told them that since they were both being such good sports about things that I would pay them $300 a piece for doing the shoot. My instructions for Ridge were to strip down to his underwear to catch up with Josh. Meanwhile I talked with Josh for a second, and he truly has never been around another guy jerking off before. This shoot was about to get interesting.

Watching the video both of them were getting hard as they pumped their cocks and slowly more of their cocks were exposed for us to see. Really Ridge wasn't being shy about it, Josh was the one who was just going at his own pace. However, after it seemed like they had rock hard cocks, I had them take off their underwear and keep stroking their dicks. Josh sitting there on the couch stroking his dick, it was hot to watch him. At one point he had his arm up by his head and started to lick and bite his armpit. That would just make anyone excited to see more. Ridge turned and asked Josh if he wanted to make some more money and Josh said that he was down. However, when it came up that Josh was going to have to suck on a dick, he quickly changed his mind. When I put the option that he could just have his dick sucked instead, we were good to get started. I had Ridge begin and to do that he leaned over and put the dick in his mouth.

Ridge was giving a blow job to Josh, and Josh seemed to like it. Josh was around 6 inches long my guess, so Ridge was able to put all of it down his throat and suck that cock pretty easy. After a short time Josh started to pre-cum, and that made Ridge stop. The great thing was that Josh was about to get off from the first blow job that he received from a guy. I told him to stroke it, but to keep the interaction going I told Ridge to take over. After a while though Ridge just wasn't jerking him off the right way, so Josh took over. Seconds later he came shooting his load all over his hand and it dribbled down the side. He seemed to be happy after that. Now, that he was taken care of I told Josh that he could make some more money if he would put the dick in his mouth and try giving oral. Josh said he would do it.

Leaning over to take his first cock in his mouth, Josh started to give his first blow job ever. As he started to move his mouth up and down, I noticed that he rubbed Ridge's legs with his other hand showing that he was that he didn't mind touching. He was doing a good job giving the oral and I was glad that he wasn't quitting on me. Using his mouth and hand he kept Ridge harder as a rock. Pausing and coming up for air he would jerk him off and Ridge even had to wipe off his pre-cum as well. Pumping really fast, Josh would suck and pump and then repeat. I think that Josh just might be into the cock, for the way that he liked to give oral. It just might be possible that Josh will do more in the shoots to come. Both guys went to jerking off on their own to the porn and it didn't take long for Ridge to get off doing it himself. Shooting his load all over his hand covering it in cum, and Josh even was able to get off a second time. The two of them did a great job, and looked hot together. My hope was that I can pair them up to do more work with one another and hopefully get them into the fucking.