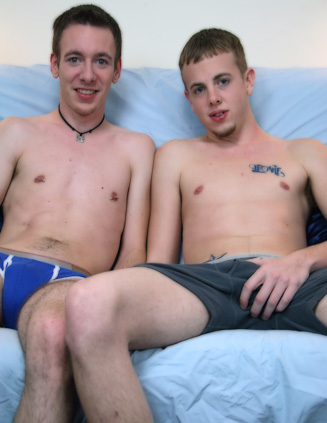 Bringing back Mike I wanted to see if could get him to start to open up on camera little more, so when we spoke on the phone I told him that I had an oral shoot for him to do. The only minor detail that I may have left out over the phone was that the oral would be with another guy. Mike said that he would come in for the shoot, and so I put everything together for it to happen the following day. When Mike arrived first I had him take a seat on the couch and explained to him that I knew he couldn't go far with the $200 he made for the solo shoot. That was why I asked him to come in to do an oral scene and that it would be with a guy. Mike seemed a little shocked by my proposal, and was hesitating if he would do it. I didn't give him much time t o think about it, before I just called in the other model that I knew had just arrived. Jimmy took a seat on the couch, and I explained that he was bi-curious. I offered Mike $600 to do the shoot, and he said that he wanted more money to do it. I told him I wasn't going to do that, but instead maybe we could just have Jimmy give him oral instead.

Once the guys agreed to money the first thing that I had Jimmy do was take off Mike's shirt. As they were doing that we were talking about Mike who never had another guy touch him before. Jimmy has never done anything with another guy before either, only has fantasized about having something happen. Since this was going to be his first time putting a dick in his mouth, I told him to just repeat all the things he like to have done to him. I made Mike stand up this way it would be much easier for his pants to come off; he attempted to do it himself. However, I told him to stop, because Jimmy was going to take his pants off. As Jimmy got started it wasn't a big deal until the only thing on was the underwear. I pointed out that Mike was pretty big, and had Jimmy feel over the outside of the underwear. Touching Mike for the first time Jimmy got a smile on his face. When I told him that the underwear could come off, he got very excited and stood up to do it.

After the underwear was off Jimmy started to touch the cock with his hand and I told him not to be afraid. Giving him a moment to take it in, I then asked him if he wanted to suck it. Right away I got a response of yes, and told him to go ahead. Jimmy lowered himself down to his knees in front of Mike where he was at perfect level with his mouth in front of Mike's cock. Putting it in his mouth he got started and moved it in and out of his mouth slowly. As Jimmy did it, I asked Mike what he thought so far and he said it wasn't bad. Then, he made the comment that it was better than some girls. Jimmy just went at a slow pace and was doing fine with the oral, after a while I told him to lick Mike's balls as something different to do. Starting to get warm Jimmy told me that he wanted to take off his shirt. In doing so Mike got a little uncomfortable, but I told him to take a seat on the couch. Jimmy continued giving his first blow job to Mike while they were on the couch. Pausing for a moment Jimmy asked to take off his pants, I told him that was okay and he stripped down. Just as he was about to get started again with giving a bj, I told Jimmy to take off his underwear too.

It is always great when models get into the shoots and it seemed like Mike was taking an interest in what Jimmy was thinking about giving the head. That was when I offered him more money if he would just go ahead and give oral as well. It seemed pretty clear to me that he was open to trying it for the money and maybe out of some curiosity now as well. Changing the couch into a bed position, the boys got into a 69 position and Mike seemed a little nervous to get started. I had him just jerk Jimmy to begin with in order to get the cock hard enough to be able to suck. Mike was very slow at putting the dick in his mouth, but once he got started it seemed like he had some natural talent at blow jobs. He was doing so good that Jimmy couldn't concentrate on what he was doing. After a bit though, Mike just jerked Jimmy off and it seemed like it wasn't going to take long for Jimmy to get off. With the help of a handful of lube, Jimmy was moaning like he was ready to explode. Sure enough he shot his load all over his body, and Mike thought that it was funny to touch his overly sensitive dick afterward.

I had the guys just wipe up and get into a more comfortable position for Jimmy to be able to jerk Mike off. They sat next to each other and Jimmy pumped Mikes cock really fast, and it took long for Mike to start to moan causing him to sound like a girl. There was anticipation there in knowing that Mike was going to shower in cum sprayed over his body. Seconds later his body released his load, and he came all over himself. Jimmy got some of the cum on him as well. After the guys got off, I knew that Mike wanted to head to the shower to get cleaned up. I hope to see if I can push Mike a little further in doing more with guys.