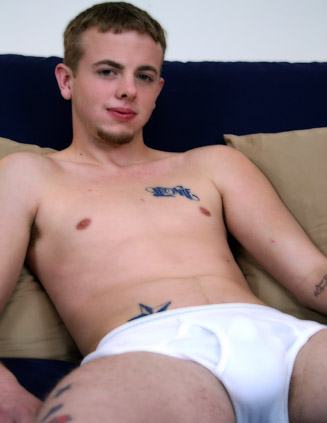 I brought in a new model Mike, he is 19 years old, recently had a girlfriend, is around 6 feet tall, and weighs around 145 pounds. As we started talking the plan was for Mike to do a solo shoot to see how he would do on camera. Being a student down in south Florida, he needs money to keep going to school. He was going to only make $200, but from there we would look at bringing him back to do some more work with perhaps guys and girls. When I asked if he had ever done anything with a guy before, he said no, but said he was open-minded. To get started I had Mike take off his shirt for us and he had pale white skin, and a bunch of little tattoos over his body. Standing up I got another chance to see how tall he was in person, I had him take off his pants. I had him spin around and show his ass to the camera, which was a nice shape. Underneath his briefs he had a couple of tattoos as well, one of them being a lawnmower man at his pubs. Taking a seat on the couch he started to play with himself and stroked his dick.

After he was hard he reached for one of the toys that I had sitting on the table. It was a pocket pussy, and he figured it might be fun to try. Putting it over his dick he started to stroke using it, and was having some trouble getting a rhythm down. Moving in I had another camera guy give him a couple of squirts of lube. The more he pumped his dick with the toy the more that he liked the feeling. That was when he discovered that if he pushed the tip of his cock through the end with the tight hole it would give him an unbelievable sensation. After a while though he decided that he had enough and went to jerking off with his hand. As he stroked his cock I told him to give me a warning that he was going to cum just so that I could be ready. Standing back watching him do his thing, I noticed that Mike was getting red over most of his upper body. I have noticed that before with other guys that they tend to get some kind of heat rash when they jerk off or have sex. It doesn't really do anything just makes them red, and Mike was starting to sweat all over as well.

Mike decided that he wanted to try the toy one more time, because he liked the feeling. I didn't really mind, that was why I had it out there. Putting it back on he stroked his dick pretty fast with the pocket pussy. He gave me a warning that he was getting close, and I told him to remove the toy so we can see him shoot his load. As he started to have his orgasm his breathing was increasing and he started to moan really fast as well. All of a sudden several shots of cum went shooting into the air, and as he came his body was getting covered in cum. I was impressed by the size of his load, and it was very runny. Mike said that he shoots like that all the time and sometimes more and I told him that we would have to give him a nickname. Maybe something in the lines of shooter, but that it was hot watching him spray that much. After all of that it seemed like Mike enjoyed himself and was interested in doing some more work. I explained to him that he might have to do some stuff that he might not be completely down for, and he didn't seem to mind. Let's see just what I can get setup for later on this week.