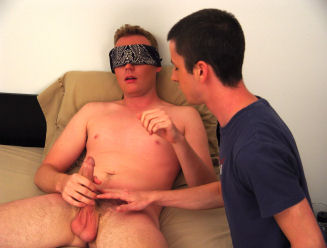 KC replied to our ad for male models and was looking for a quick way to make some easy cash. He
was working two jobs and needed the dough to pay for presents and bills. I had KC strip down so
that we could see what he looked like. He had a nice body, and seems like the type of guy that you
might find standing in line at the video store, or reading a book in a Starbucks. Very white skin,
minimal body hair, with a little happy trail going on. I told KC that I had one of my girls, Cindy,
setup to come by to help KC out but it turned up that she couldn't do it. Since I had Seth there, I
thought that I would just have him suck KC off for a little extra pay, of course. I asked him if I could
blindfold him. In return, I would pay him more. He hesitated but agreed. Little did he know what I
had planned for him.

Seth starts to suck KC's cock. He starts to move around. He says that he has never had a blow job
this good before. KC starts to lift up the blindfold to take a look at how things are going. KC places
his hand on Seth's head and shows that he likes every minute of it. I offer some more money, since
he is having a good time, for KC to suck Seth's cock. Of course, the pay goes up, but KC agrees to do
it. Getting comfortable, he slides his hand under Seth's back, places the limp cock between KC's lips
and the sucking starts. He picks up some speed, and tries some new things. KC goes for deep
throating the cock, and seems to be handling it very well. He even says that it isn't that bad, and
now knows what his girlfriend goes through.

I ask Seth if he would let KC fuck him, and he doesn't really want to do it. Off camera, he even gets
really mad at me because he hasn't been fucked before. I knew that he really wanted the money,
and that he ultimately would do it. With a little bit of time to stew over things he says he will, and KC
of course wants some more money. When we get all the figures out of the way, Seth lays on his
back. Lubing up a finger, he slides it in Seth's nice tight ass. Once the condom is on, KC puts Seth's
legs on his shoulders slowly inching his cock inside Seth's very tight ass. Once inside, he slowly
begins to pull out. Every thrust is faster. Seth lets out some moans and rubs his head in pain. KC is
really getting into it and starts to pull Seth closer to get deeper inside. Tilting Seth more on his back,
KC gets up on his hands and legs and fucks harder. Seth starts breathing deeper and they start to
develop a pattern. The two of them fucked hard for a while and then slowed it down for a while so
they could get a breather.

Finally, KC was going to blow his load. He set himself up to shoot his load at the last minute on
Seth's stomach. Seth surprised me when he said that he would rather have KC cum on his face.
Without any hesitation, Seth got into place, and shot his load everywhere. Yes, and I do mean
everywhere--all over the sheets, my wall, and Seth's face. That was one damn good facial. Then it
was Seth's turn to finish, but he had lost his hard on. KC said that he would help and started to jerk
Seth off. Then, Seth pulled KC into him and started to suck him once again. It took Seth a while by
jerking off to be able to finish. KC was rubbing Seth's body, touching his balls, hoping that stroking
them would help.

All of a sudden, Seth let out this load scream that turned into a sigh of relief. Cum was shot all over
his stomach and the moans just poured out. Once it was all over, KC said that it was very hot and
that he enjoyed it. Everyone keep an eye out. Hopefully, KC will be back for another shoot.