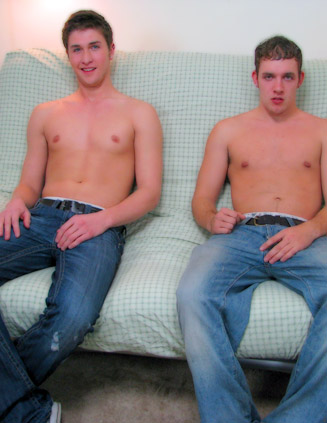 We got started with the shoot right away, because CJ was running late. Actually, over an hour late, because he had car trouble as he was leaving his house his radiator blew. In order to make it to the shoot at all, CJ road his motorcycle and I had to give him a hard time for being so butch about it. I told him that he would now make the money to fix his radiator, and in the process he would get a chance to not only blow a load, but also Logan. Even though I started out just talking to CJ, I moved over to Logan and put him on the spot. I explained to him that I paired him up with a site favorite to do a shoot with. Talking to them both, I asked if they mess around with guys at home or off camera. Both responded with no way, and that it is all for the money. CJ said that he has a girlfriend, but has been seeing a couple of girls at the same time. Logan said that he started seeing and banging his ex-girlfriend as well.

In the background I had a porn playing and CJ seemed to be paying more attention to the porn than to what we were doing. Before the shoot Logan mentioned that he had been spending some time in the gym to get more toned with doing the shoots. I had him stand up for me, to show the camera and the members his progress. Stripping off his shirt, Logan seemed to be a little more cut in his chest, but really I could notice when he showed his back that some of his baby fat was gone. Turning back around, I asked him to flex his muscles for us, just because I wanted to see his biceps. As his muscle was flexed I told him that we were going to get him a tattoo that said mom to put on his arm. He didn't seem to down for that idea. Making CJ stand up I had him take off his shirt as well, and he admitted to not spending any time in the gym. He needed a lecture to focus on me instead of the porn. In finding out what CJ has been doing with his time, he said porn. Then, he fired off a response that he has been holding up a sign on the side of the road, but that was a joke too.

To keep going with the undressing I told them to finish stripping out of their clothes down to their underwear. CJ just slipped right out of his jeans and was showing off his Kmart special boxers. Logan on the other side had on a pair of boxer-briefs that looked great on him. Both were sitting down on the couch and starting to rub themselves, when I started to break out the plan. I started with telling CJ that he would be giving head first to Logan to get it out of the way. There was no need for more details, he leaned over and started to help with getting the underwear off. Grabbing a hold of Logan's dick, CJ got right to work on giving the oral. It wasn't surprising that this has started to become a routine for CJ, but he still packs a lot of surprises when he comes in for shoots. As he was giving a blow job to Logan he turned the limp cock into a hard rod. Logan even admitted that he hasn't had sex in a while, and that made CJ a little worried that there was going to be a load of cum in his mouth. We joked around about it, but were able to keep going with the shoot.

Logan liked the oral that he was getting and after CJ seemed to be comfortable with what he was doing he pulled off his boxers. His cock was then exposed and it didn't take me saying anything for Logan to reach right over and start to jerk CJ off. Both guys were hard and it was good that they were working so well together. CJ got Logan's cock to the point where he wanted to work some of the spit off of it. He sat there just jerking him for a moment, before I interrupted for them to switch. CJ sat up and Logan leaned over and placed his hand at the base of CJ's cock. Starting slowly he lowered his mouth down on his cock and began to suck. Once he was able to repeat some of the things that CJ did to him, it seemed that Logan was learning some things. He would cup CJ's balls in his hand and play with them. He would even twist his head a little bit as he gave oral. However, he still only felt comfortable doing it for so long before he sat back up.

Both guys sat there jerking off to the porn and before I could really do anything else, I heard from CJ that he was going to cum. That was great, because sometimes it can take him a while. This time CJ had more of an oozing cum shot. After that I moved over to Logan who was stroking pretty fast as well, and after a moment he let out a warning that he was getting close to cumming. Sure enough his cum was more of a dribble as well. After that both guys felt better, and especially since Logan hadn't gotten off in a while. I explained to the two of them that I got the idea of putting them together while I was taking a shower. I wanted to start them out here, and then have them do a fucking scene. CJ seemed to be down for that just because he does like to get fucked. Then, after that shoot I would have them do a threesome. The extra guy for that scene would remain a surprise until then, so everyone will just have to stay tuned as we get that shoot underway.