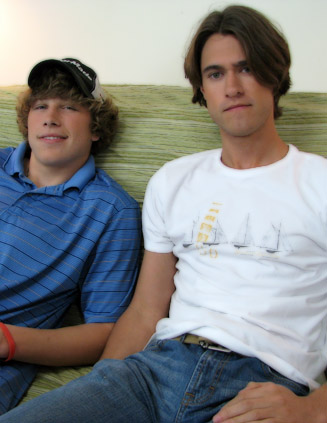 I teamed up 19 year old, straight, Jordan with 24 year old, bi Stephen. Jordan has done a couple of shoots with us, and has become more comfortable at putting on a show in front of the camera. Both of them are currently going to college, but we found out different schools. Jordan has a girlfriend be seems to always be on the hunt for other girls, he shared a story in the shoot about eating at a restaurant and a hot server. Getting back on track with the shoot, I explained to Stephen that Jordan was only interested in giving anal. That meant that he would have to bottom, but that was something that he expressed interest in when he did his solo shoot. I explained the pay that each one of them would be making and got no arguments. From there I had them get undressed for us, and so as the clothes were coming off I told Jordan that I had a surprise for him. We had a guy that was going to fuck him in the ass. He laughed me off and told me that I was funny.

Once they were completely naked I had them take a seat on the couch. Sitting next to each other on the couch, without saying anything Stephen reached over for Jordan's dick. Since this was Stephen's first chance to do anything with a guy, I wanted him to go first in giving oral. Taking a hold of Jordan's cock with two fingers, he lowered his mouth down to the dick and put it in his mouth. Moving his head up and down in a slow steady motion, Stephen was giving his first blow job. It didn't take long for Jordan's cock to get pretty hard, and the look on his face made it seem like he was enjoying every moment of it. Coming up for air Stephen seemed to want a break, but I told him to keep going. I only made him go a little longer before I asked Jordan if he was ready to fuck. He nodded at me and said yes. I asked Stephen when he thought that he was bisexual, and he responded that it wasn't until a couple years ago he figured it out.

Once they had changed the futon into a bed, Stephen got into the doggie-style position and leveled his back out. I reminded Jordan that this was Stephen's first time getting fucked and that he needed to take it easy at first. He pushed his cock in slow causing Stephen to let out a cry from the pain. However, Jordan didn't stop, he just started doing little movements and working up to going faster. As they were fucking Jordan was proving to be a dominate top, by the way that he was pulling back on Stephen's shoulders and hips to fuck faster and harder. The hottest moment was when Jordan was holding onto Stephen's head from the back and then started to pull on his hair. He asked Stephen if he liked having the cock in his ass and the response he got was a repeated yes. When I got the camera in behind them and was able to see that Stephen was pretty hard from just the fucking. Jordan did a little spanking as well and the two guys were doing an awesome job.

I asked them if they would change up positions and they laid down on their sides. Stephen put one leg up in the air, and Jordan tried to help him hold the leg up as well. As the two were fucking every once in a while they would look at one another. I really got a great view of watching the penetration of the virgin asshole getting fucked. Stephen put his head back close to Jordan and they were within kissing range. I told them to kiss and there was some hesitation there, but sure enough Jordan did it. Leaning in he lightly touched lips with Jordan. Then, I had the guys change position one more time. Stephen got onto his back, and Jordan was able to keep the fucking going. I was surprised at how Jordan was able to keep from blowing his load this long. As they were fucking, it seemed like they were making more noises and faces. All of a sudden Jordan pulled out, threw the condom on the floor, and jerked off. Shooting his load all over Stephen's stomach and it stood out, and only took Stephen about another minute to cum on his stomach as well. Both guys were good, and earned every penny from the shoot. Stephen enjoyed his first guy/guy experience, and they look forward to coming back again soon.