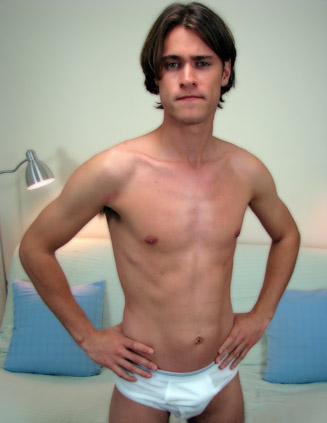 Let me introduce you one of our newest models Stephen, who happened to be 24, and very nervous to be in front of the camera for the first time. At least talking to him off camera before we started he seemed to be fine and ready to go. In getting to know Stephan he said that he was bisexual, but hasn't had any experiences with guys before. He happens to be looking to have his first experience and that just so happens to be something up our alley. Listening to Stephen speak right away you can pick up that he has a strong accent. Come to find out that he is from South America and has been living in Miami going to school for the last five years. The other reason that he contacted us of course was to make some money, since he was broke. I explained to Stephen that what he would be doing was known as a casting couch. All he would be doing was jerking off for us, so that we could see what he looked like and how he was in front of the camera. From there we would look at pairing him up with some guys to do some work with.

To get started Stephen stood up to get undressed, taking off his jacket and placing it to the side. When he was stripping out of the clothes, I kept the conversation going so that there wasn't an awkward silence. In doing so, I found out that he was 5'10", 142 pounds, and loves to go surfing. Standing there in his underwear Stephen had a lean body, with very nice skin color that naturally made him look like he had a tan. Even though he was constantly moving his hair out of his face, he looked good with the longer hair. Spinning around to give us an overview of his body he had no tattoos. Taking a seat on the couch I told him that I would put on some porn and where the lube was at. Looking at his cock in the briefs it seemed like I was hard, when I asked Stephen he said that he was pretty hard. Making him stand up one more time, I had him take off his briefs for us to see his dick. He had a thick cock and a neat little trim job. Since he was up I had him show his ass to the camera as well before sitting back down on the couch.

As Stephen was playing with himself on the couch, I asked him if he was to mess around with a guy what would he want to do. As for fucking I really just wanted to get a feeling as to if he wanted to top or bottom to see who I could pair him up with. His response was that he wanted to try getting fucked. I let him start to pay more attention to the video so that he could get turned on and as his dick got harder. We got to see that Stephen had a big dick and it was throbbing with the lube. As he jerked off his legs were wide apart and one was up on the couch. Stephen would let out a moan or a noise periodically to let us know that he was getting into the jerking off. Keeping his head back with his eyes closed seemed to be easier for him to block out the camera in order to get close to cumming. Stroking his cock he kept the same hand motion, but would just change the speeds. As he got closer to having an orgasm, I noticed that he started to hold his breath for longer periods. Pumping faster, he was quiet and at any moment he seemed that he would shoot his load. He started to moan and then the cum sprayed from his cock and his hand and on his pubic area. It was a nice size load, and he had to catch his breath. I asked Stephen if he wanted to come back to do some more work and he said that he was very interested in doing the fantasy that we talked about in the shoot.