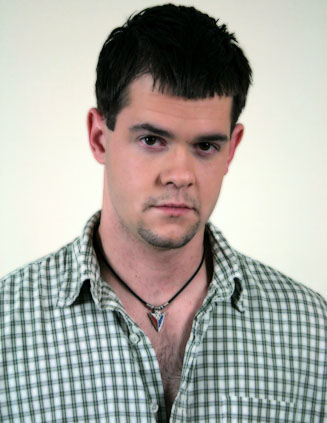 Let me introduce you to Max the newest guy to join broke straight boys. When he showed up for his shoot time, I was taken back that he was 6'5" tall. He took a seat on the couch, and when I asked him how his parents came up with his name his response was that they smoked a lot. With Max's build he seemed like he would be a good football player, but he said that he plays basketball. He is a server and likes his job, because it's the easiest place to get girls numbers. Max is 24, straight, and had replied to one of our ads for straight models. On the phone I mentioned something to him about doing things with guys to give him a heads up. I had decided to put Max just in a solo shoot to start out with to see how well he would do in front of the camera. Then, from there I would look at putting him in more shoots where he could make lots more money if he did things with other guys. When it came to a guy sucking his dick he seemed to hesitate, but said that there was probably a number that would be high enough for it to happen.

To get started I told Max to go ahead and begin to take off his clothes. He stood up and dropped his shorts to the floor exposing his white briefs that he was wearing underneath. Unbuttoning his shirt his hairy chest was revealed and it looked good for his body type. Max had a tattoo on his right arm, and he mentioned that it was something that he drew himself. Looking Max over from head to toe, he was very white, and seemed like he could use some time out in the sun. However, he had very muscular legs, and had a jock build to him that seemed like he would be good for long periods of fucking. Taking off his underwear, Max took a seat on the couch, and we joked around about jerking off, girls, and the type of porn that he liked to watch. Surprising enough, his girlfriend made him watch gay porn one time for all the lesbian porn she had to watch.

Getting some lube in his hand, Max played with his dick to try and work on getting it hard. Slowly the blood started to fill it, and I asked him how big it typically gets and his response to me was around 7 inches. His cock was getting harder, and Max would thrust his hips pushing his dick into his hand. As he jerked off he would keep his legs wide apart showing off his big balls. He would occasionally look at the TV and around the room as he stroked. At one point max was getting really close to shooting his load, so he slowed down and just showed off his dick. Changing position on the couch he laid on his back in the other direction. Still keeping his legs wide apart, the faster that he would jerk off, his feet started too lift off the couch. His body would shake and it was only going to be a matter of time before he shot his load. Giving me a warning that he was going to cum, I was ready to get the shot. Max came shooting his load up his chest with some getting up past his nipples and all the way down his stomach. He put on a very intense shoot, and after that he wanted a smoke and drink. I hope to bring Max back here soon.