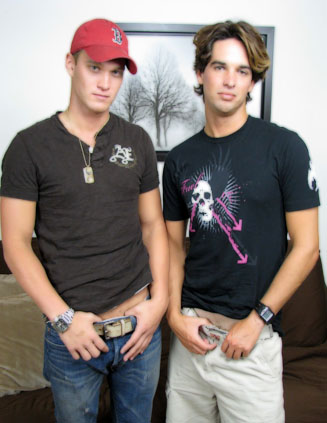 I brought Nu and Dustin in for a shoot and we had talked on the phone about how I would like to see them do some anal action just to make it different from what they have done before. The guys thought about it, but really it came down that Nu was going to have to bottom if the shoot was going to happen. When they showed up for the shoot we talked off camera about how the shoot would go down, and that if it went well, I would bring them back for a threesome shoot. The two of them were ready to start and so we started filming. We did a brief little introduction to get going, and then I had them stand for me to get undressed. Taking off their shirts, both guys were in great shape. Nu talked about how his tan was darker, but Dustin's was even over his whole body. Dustin stepped out of his shorts and he had on a pair of boxer briefs that matched his hat. Really it was kind of funny, because the last time he was in a shoot that happened. Just maybe he happens to be putting some thought into what he wears to a shoot.

The guys were naked and ready to go. It seemed best to have Nu give head to Dustin to get him hard in order to do any fucking. As Nu got started, I told him that it would be better than surfing and he looked right up at me like I was wrong. With Nu being straight he sucks cock like a straight guy would do it, and so he really would only put about half of it in his mouth at a time. However, he got smart about it and used his hand in combination with his mouth and that seemed to turn Dustin on. After a while, Dustin placed his hand on the back of Nu's head to get him do go down further. I noticed how nice Dustin's balls looked being shaved and big. I had Nu lick them, because they're a part of the package. Dustin seemed to be as hard as a rock, and ready to fuck. The two guys stopped with they were doing and helped to get the couch into the bed position. As Nu got on his back, Dustin was busy putting on a condom. I made sure to ask them if they had put on some lube on before they got started. I asked Nu if his girlfriend had any idea of what he was doing, and he told me no.

Dustin held up Nu's legs against his chest and with his other hand he guided his cock into the very tight asshole. As he was pushing in, Nu took a deep breath and described the experience like having a tree shoved up his ass. Wiggling and small movements would get Nu to tense up, but Dustin got to the point that he could start to move a little faster. Leaning back Dustin fucked Nu in a hot, smooth motion back and forth. Still in this position not all of Dustin's cock was getting in, but Dustin tried to move Nu around to get as deep as possible. Throwing one leg up on his shoulder Dustin even moaned a couple of times doing the fucking. During the fucking Nu's cock grew from a limp cock to a raging hard on. Both seemed to be in sync with one another in motion and that is when it was apparent that Nu was about to cum.

Giving me a warning, Nu shot his load out onto his stomach and Dustin made sure to fuck every drop out of him. I told Dustin to pull out and shoot his load onto Nu. As he stroked his cock to get off, Nu was rubbing Dustin's balls with his hand. He gave a warning that he was going to shoot his load as he leaned forward. That was when he came shooting his load onto Nu's stomach and dick. Both did a great job in the shoot, and it was hot to watch them fuck. At first Nu said the fucking was painful, but it got better with time. Both were interested in coming back for some more work, but wanted to negotiate the terms. However, the most important thing was getting to hop in the shower to get cleaned up after all that.