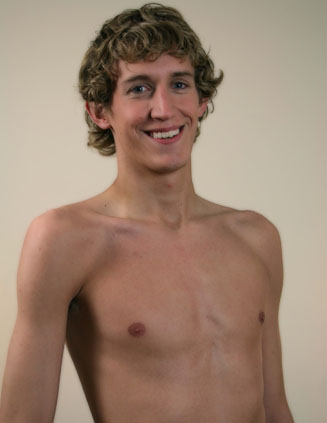 Let me introduce you to Cody, our newest Broke Straight Boy that recently turned 19, and was looking to make some extra money. He was a local boy that seemed to be almost as tall as our ceilings with a height of 6'5", Cody said his shoe size was a 13. He told me that he would love to have a career in basketball and porn as we were joking around about hobbies and what he would like to do. When it comes to other activities, he really likes to surf as well. Cock size he rated himself around 9 inches, and with his height that sounded pretty believable. I explained to Cody that he was just going to be doing a solo shoot, where he was going to jerk off and cum for us making $200 for doing the shoot. Then, we would take things from there at a rate he would be comfortable with.

Getting started Cody peeled off his shirt over his head and tossed it to the side of the room. He seemed to have a nice even tan so far on his body. I asked him to stand up, so that we could really get a good idea of how tall he was. Panning from head to toe, his body filled the camera. I found out that Cody had a girlfriend, but he hadn't shared the fact that he would love to do porn with her. Taking off his pants he revealed that he had on a pair of white boxer-briefs underneath. They looked good on him with his tan body, and I had him turn around to show us his butt. Pulling them down he exposed his bare ass, which was a little flat on this tall guy, but still had some bubble to it. Noticing the tattoo below his neck, I asked him what it stood for. He reply was luck, and explained that he was in a snowboarding accident, and he survived. Turning around and taking a seat on the couch, I told him to get comfortable and just jerk off for us like he would at home. I pointed out the lube bottle that was on the table next to him. Taking a shot of lube in his hand, Cody adjusted one of the pillows, and laid back flat.

Making small talk as Cody was just starting to play with himself to get hard. Asking him about the last time that he got off or had sex, Cody said that it had been three days. She lived in a different town than him while she goes to school. Cody was very tall, but had the body of a twink. I told him that once he got fully hard, maybe he could suck his own dick. He tried a couple of times, but no luck. To get a better idea of his size, I held a lube bottle up to his dick for me to compare. He moved his body and legs around a lot, while he jerked off on the couch. Occasionally he would moan a few times in a row, letting me know that he was getting close to having an orgasm. His breathing started to speed up, and it was obvious that he was just about there. Then, Cody gave a warning, before he came shooting a stream of cum out on his stomach. The cum was white and thick, so it stood out on his tan chest. I knew that I could easily put Cody in some more work, and from the sounds of things he enjoyed his first experience on camera. Let's see what I can bring Cody back to do next.