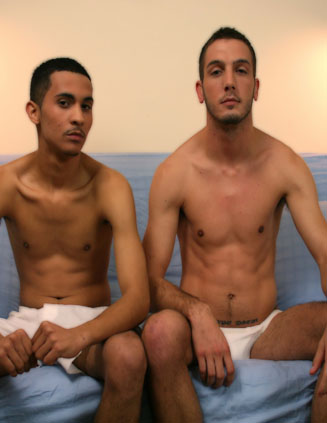 At one point I was getting a lot of calls from local guys that were looking for work, and with the economy the way that it has been, of course that doesn't surprise anyone. I decided that since I was getting so many calls that I would have to put new people together to do some kind of duo shoot first, in order to get through them to see how they would do in front of the camera. The first two guys that I paired up were Marlin and Dylan. Both had never done porn before and were broke, so they were perfect. Marlin was 18, and straight, while Dylan was 22, and bi-sexual. He had never been with a guy before, but said that he was attracted to older, masculine men. I told both of them that they would be doing a paid casting call to jerk off next to each other, so that I could see how well they would do. Dylan had no problem with the shoot, but Marlin was concerned about touching. Going further than touching Dylan really didn't want to go any further with Marlin, because he just wasn't his type that he fantasized about.

To get started, I had both guys take off their shirts, and in doing so I caught that Marlin was wearing two shirts. I asked him if that was a Latin style, or maybe he was just cold. He said that he just always prefers to wear two shirts. Next to come off were the shorts that they were wearing, and they stood up to do that. Dylan had a couple of tattoos that I noticed, and a great set of abs and V-line. Turning around they showed their butts to the camera, and both had a great set of buns. Taking a seat on the couch, they both started to play with their dicks in their underwear. I had Marlin stand up to take off his underwear first, and underneath he had a huge, cut cock, that was just getting hard. Moving over to Dylan, he was a taller, and as his underwear came down, I saw the tattoo that he had on his leg. After he took a seat and was playing with his cock again, I noticed that he had a Prince Albert piercing.

Both guys were stroking their cocks, and I didn't put any porn on to see if they really could perform. Marlin's dick was HUGE, and it was as big as the lube bottle that they were using. Every once in a while I caught Dylan looking over at Marlin's cock, and I knew that it was going to be fun hooking him up for his first guy/guy action scene. In watching how Marlin jerked off such a big dick he would concentrate on the head of his cock only. Then, Marlin would slide his hand down the shaft of his cock, concentrating on just the shaft, so he wouldn't cum early. I noticed that Marlin's head started to shake up and down, and so I thought that maybe he was about to cum. It was a good thing that I didn't move away, because he came. Some of it went up in the middle of his chest, but most of it was at the base of his cock. Moving over to Dylan, he shot his load just after Marlin, and it was about the same size. Both guys were still pretty hard right after shooting their loads, which was very hot to see them sticky, and sweaty. I will see just who I can pair them up with next to bring them back into the studio for some more work.