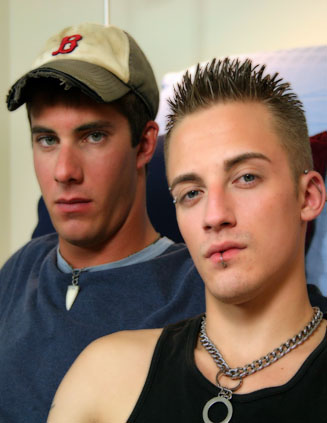 I invited Ryan and Danny back to do another shoot together for us. They have done some shoots before together, but this time I wanted them to do a full on hardcore shoot. I wanted fucking, sucking, and even some kissing action to go on between them. Both of them were looking for more work, and seemed to be blowing the money they have made on bills, and everyday shit. I told them that I would pay them $1200 a piece if they would do everything that I had listed. There seemed to be some hesitation coming from Danny, and so I told him that would like to see him top. When I explained that he would be the one stuffing his dick inside the ass, he seemed to be more down for that. Ryan would have to be the bottom in order to make that happen, and so with upping his pay to $2000 he seemed to be more down for it. When were talking about money, Danny seemed more concerned about making the most money he could in the shoot, and I explained to both of them if they flip flopped they would make the most.

To get started, both guys took off their shirts, and I had them stand facing each other. Danny had spent some more time out in the sun getting a tan, while Ryan was a little more pale skinned, although his six pack was showing. I told them to start kissing, and they leaned in and started locking lips. Watching both they seemed to be smooching, but nothing more. I told Ryan to undo Danny's pants and play with his dick, which he did. Rubbing it, and stroking it on the outside of his underwear. As he was getting hard, I wanted to see some underwear come down. Ryan was being the aggressive one, teasing Danny and telling him that he wanted to have a dick up his ass real bad. Next, it was Danny's turn to undress Ryan down to his underwear. Playing with his dick, Ryan was hard in no time, and the two of them stood there just facing each other. Taking off their clothes completely, they turned to show their asses to the camera. I asked Danny to rub Ryan's ass for us, just to keep the interaction going between the two of them. Ryan stepped up and did the same for the camera.

Moving on to getting a blow job, the two boys took a seat on the couch next to each other, and I knew that neither one was going to volunteer to take a dick in their mouth. So, that is when I told Ryan to go first. He leaned over and put the dick in his mouth, and as he got started I mentioned that he would want to get it nice and hard to go in his ass. Ryan gripped it nice and firm at the base, he got Danny rock hard in only a few minutes. With Danny this hard, I wanted them to fuck like crazy. I didn't want to waste any time, so I told Danny to get a condom on, and Ryan was more in the mood for getting sucked. Changing the couch into a bed, Ryan told Danny that he wanted to start out in the riding position. Ryan was slow when he sat down on the cock, and made sure to take it easy. Once he was all the way sitting down, Ryan leaned forward and started kissing Danny. The more they kissed the more turned on the both of them got to keep the fucking going. Danny paused for a moment and wanted to try a new position.

Danny told Ryan to press his hands on the floor while he stood up, causing Ryan to do a handstand right there in front of the bed. This was one position that I never could have expected some straight guy to pull off, but Danny must like to get a little kinky in the bedroom with his girls. It was great to watch them try new positions and see Danny throwing Ryan around with his cock deep inside Ryan's ass. Ryan ended up on his back, with his legs up in the air, and as they seemed to look like they were getting close to getting off, I asked if they were ready to flip flop. Ryan immediately said yes, and Danny pulled out. Danny lied back, and put his legs up. Ryan wasted no time in getting a condom on and lubed up to start fucking. It was a lot hard for Danny to take the dick in his ass, and he was being more of a pussy about it. Ryan was slow, but at the same time he wanted Danny to squirm. I will admit that it was hot watching this boy moan being in a little bit of pain. Ryan wanted to attempt a cool move too, so he told Danny to put his hands up around his neck. Then, with one big move, Ryan stood up with Danny just going along for the ride. There was nothing that Danny could do, but hold on. Ryan's hard, thick cock was all the way, and I mean all the way into Danny's tight asshole. Ryan, threw him back down on the bed, and kept fucking him. Even when Danny seemed to be pissed off and bright ass red, Ryan didn't stop.

Wanting to keep going with the fucking, Danny got into the doggie-style position. I would see Ryan pull Danny back onto his dick, and sometimes Danny would sit back on it. After a while Danny's arms got tired of holding him up, and he just fell on the bed, but Ryan didn't stop fucking him even when he seemed to be in pain. I got in behind them, to watch the penetration of Ryan's dick in Danny's ass. Ryan would pull out wait a second for Danny to moan and then would pound it back in.. Occasionally, he would just fuck as fast as he could, which made Danny quieter. Ryan pulled out when he was getting close to cumming and the two of them jerked off. He was the first one who came, squirting his load all over Danny's dick and lower stomach. Taking a few more minutes to get off, Danny came as well. His load actually squirted into the air, landing onto his stomach. Both guys sat up and seemed to be hot, sweaty, and out of breath. They earned their money for this shoot and that's for sure.