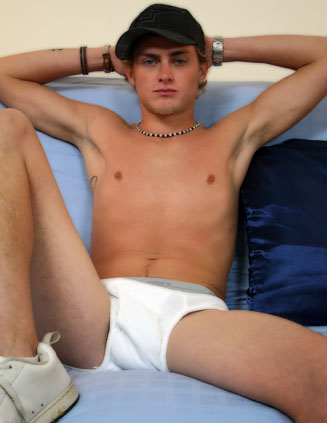 Troubling times are hitting everyone and it's clear that people are searching out ways to make extra money. My phone rings off the hook from people that are interested in seeing what they have to do to make some money doing porn. A lot of times people apply with us, answering a bunch of questions, and then send us some pictures of themselves. After that, we contact the ones that seem like they would work out and see if we can setup some kind of casting couch shoot. Well, Shane was one of the guys that I called me last week. I setup for him to come into the studio for a solo. When he arrived, I started the shoot with him tell us how he heard about the work. He said that his friend Alex had done some work with us, and talked about the good money that he made. Shane was very clear on the fact that he was straight, a skater, and that he really didn't want to do anything with a guy. The only interaction that he would consider was a guy to suck his dick.

I made sure to tell Shane that he was just going to do a casting couch shoot where he would jerk off for us and make $200. Than, if he was comfortable we would look to have him come back to do a shoot where he would get his cock sucked. He seemed like he was ready to get started, so I told him to take off his shirt. Peeling it off, he threw it on the floor, and waited for my next order. I told him to stand up, and looking over his body he had a good tan, and seemed pretty tall. Shane said that he was 5'11", and had on a pair of nice shoes. I asked if he had any tattoos, and he had a couple on his body. Pointed them out, and kind of gave their meanings. Next, I had Shane put his hat back on, to hide his hat hair, and it gave him the skater look and the reason I though he looked so hot While he took off his pants, he said that his cock is around 8 to 8.5 inches hard. He had on a pair of white briefs underneath, and I would have guessed that he was a boxer guy from the time that I met him. Shane seemed to be a little more nervous now that he was almost naked on camera.

Taking a seat on the couch, I told Shane to relax, and just start to play with his dick to get it hard. I put on porn for him to watch, and he seemed to be getting turned on. I told him to show us his cock, because his briefs were starting to look full. Pulling his underwear to the side, he kept his underwear on while he revealed his cock to the camera for the first time. He seemed to live up the size that he revealed. I saw pubic hair, so I could see that he didn't shave. I asked him if he liked when his girlfriend sucked it, or he fucked her. Shane's response was that he liked both, but hasn't fucked her in the ass yet. Slipping off his underwear, I had him stand up to see his bare ass. His ass was smooth, had some bubble, and I had him slap it a couple of times for fun. Shane's dick was a monster, and would fill up some guy's ass if I could get him to fuck one down the road. As he jerked off I continued to make small talk with him on camera.

Shane only gets to see his girlfriend once in a while, due to her school schedule. He seemed pretty horny, so I was hoping that he would give us a great big cum shot. One thing that I noticed was that he liked to jerk off dry. He made himself comfortable on the couch, and lied down to continue jerking off. Grabbing and squeezing his balls, his breathing started to change. Shane started to move his legs around a lot more, and so I knew that he was starting to have an orgasm from these signs. His muscles started to tighten, and as he was moving around cum started to squirt from his cock. He came mostly shooting his cum on his hand, and on his cock. I asked him to show me his hand, and if he would taste it. Shane said no, and that he was going to take the money and go.