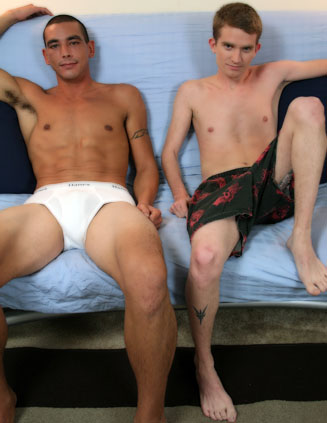 I received an email application from this guy that was interested in seeing if he could make some money modeling. When we started talking, the guy told me that he had a buddy that also would be interested in doing some as well. The guy told me that he didn't have any pictures to send, but told me his stats which sounded fine to me. We setup a time for his buddy and him to come into a studio for an interview and then a casting couch shoot. A couple days later they showed up at the studio, we started by just getting all of their info, and they seemed like they would be a good fit for Broke Straight Boys.

As soon as they were done, I moved them over to the couch where I turned the camera on, and started to ask them questions. Going to my right, was Steven, who was straight, and recently got back from the army serving as a specialist. His main task was being a truck driver. The reason he was came in looking for the work, was because he needed to make some more money than what the army pays. His buddy sitting next to him was Davin, who was also in the same unit, but served as a medic. Right away that got my attention and I told him about another site of ours, College Boy Physicals. He said that he would think about it. Davin was straight, and also had a girlfriend who had no idea that he was doing this. I explained to both of them what they would be doing was a casting couch shoot, and would jerk off next to each other and make $200. Then, if that went well we could see about more work in the future. Both seemed fine with it as long as they didn't have to touch each other. Neither one had ever messed around with another guy before, but Davin at least participated in a circle jerk to porn before with his army buddies overseas one time.

Getting undressed for us, the two of them stripped down to their underwear. Steven preferred boxers, and Davin had on a pair of briefs. Putting on porn for them to watch, both said that they would like to see some girl on girl action. I told them that I wanted them to get hard for me, and both seemed to be interested in the porn. Steven used some spit to jerk off with, and Davin used some of the lube that was sitting next to him. Both guys didn�t seem to get hard for a while, but then Davin's cock just magically started getting bigger. Moving over to him, I watched him jerk off his dick to see just how big he would get. When I asked him how big his dick was, he said 7 inches, but it seemed to be possibly bigger than that. Davin's girlfriend likes his monster cock, but sometimes complains about the size. Steven seemed to be much more nervous, and just had a harder time performing.

Steven was jerking his dick pretty fast, and in a stretching motion. Pulling it towards his upper chest and then back again, doing this repeatedly. After a few minutes more, Steven's cock did seem to get thicker as time went by. He was the first one to let me know that he was getting close to shooting. As soon as I moved the camera over to Steven, he came shooting his load all over himself with most of it landed on his thighs and hands. Davin looked over and made sure that it was okay for him to get off. He began jerking off really fast and with long strokes, it was only after a minute that he started to cum. Davin came on his hands and lower pubic area. Both guys did a great job for their first time in front of the camera. I think that it just took Steven a little longer to relax, but both seemed very interested to come back if I offered them some work.