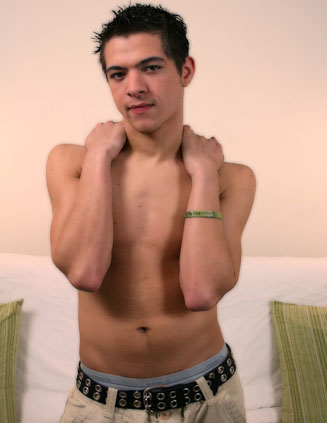 Zach happens to be one of my buddies that helps me around the studio from time to time with getting models ready for shoots, paperwork, and making calls. He has bagged me for months to get him a shoot to make some money. Well, as kind of a Christmas present I promised him a shoot to get him some money and a chance to show off for Broke Straight Boys. Zach is 19 years old (almost 20), 5'10", 10.5 shoe, and gay. Zach was going to get a chance to work with some straight boys, and get them to do some things on camera for us. It was going to be my present to him for Christmas, and I knew that he would like the guys that I was going to pair him up with.

To get started, I had him take off his shirt. Zach stood up to his feet, and peeled off his shirt. Revealing all the hard work that he had been doing to get in shape, has paid off for him. He had a six pack that was showing, and a tone chest that displayed his nipple piercings nicely. Dropping his pants he stepped out of his jeans and he was only left in the white, boxer trunks that he had on. Spinning around he showed his bubble butt in the tight underwear. Since Zach is gay it was a little easier for him to relax and show things on camera compared to the straight boys. He pulled his underwear down to reveal his bare butt to the camera. I pointed out the tattoo that he had on his upper back just below his neck. To have a little fun, I asked Zach to shake his ass for us. He did for a minute, and then he put his leg up on the couch for me to try and get a shot of his asshole. While he was in this position, I told him that I wanted him to try and get the straight boys to kiss when I put him with them. Zach told me that when he gets hard his dick gets to be around 7 inches cut.

Putting on some gay porn for him to watch, we had everything in place for him to do the shoot. Zach didn"t lead on like he was uncomfortable since we had known each other so well, and had never been in front of the camera before. He started to rub his penis while we chatted in the hopes of trying to get hard. Pulling on his dick he was working on getting hard. While he was doing that we were talking he mentioned that he was a top, but could be versatile. Getting into a comfortable position on the couch he kind of laid on his side and stroking his cock. Once he was about semi-hard, he added some lube to his dick to a more smooth motion. Lying there jerking off, Zach took his other hand and rubbed his balls and asshole. His breathing started to increase the faster he jerked off. Zach wiggled and moved his legs around the whole time he was jerking off.

Watching Zach jerk off I could tell that he was getting close to having an orgasm. His body was shaking, and his head was all the way tilted back. Zach stretched his legs wide apart and both hands were busy doing something. Zach yelled out that he was getting close to cumming. I told him to go for it, seconds later his load was being sprayed on his chest. The cum was running down both sides, and covered his whole stomach. After he got it out he licked his hand in excitement. I told him to lick it, and he did each finger. He had a great time making some extra money and being on broke straight boys. Now, he was looking forward to the other shoot that I was going to put him in. I handed Zach a Santa hat to put on as we wrapped up the shoot.