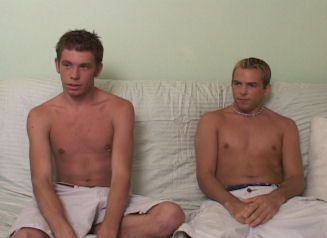 Eric and Dex called me up and wanted to come in for an interview. They were broke and needed some money to go to a party. Dex is a 19 year-old, skinny, smooth, white boy with his nipple pierced. He just so happens to be bi-sexual. And his friend Eric is 20, straight, with a nice- looking body and a great personality. Both of them are going to school right now and living in a dorm room with two other guys. Because of so many living in one room, they have to get off in the shower or the bathroom for some privacy. Eric has a girlfriend right now, and Dex is just a swinger and is up for anything. When both boys started jacking off, it was a little hard for Eric to get hard, so he grabbed the bottle of lube and was good to go. He says that he is straight and has never thought of another guy, but has compared himself to guys here and there.

After a while I decided to give things a little change of pace to see what kind of a reaction I would get. I gave them an extra $50 each to let Dex give Eric head for the first time. I got the reaction I thought I would. They said how much they really needed the money. Eric tried sucking a cock for his very first time, and after a little bit he said that it isn't bad. After offering some extra money, I got Eric to try using a dildo for the first time. His face and quick reaction showed that he wasn't enjoying it. With some quick convincing that a real cock would be easier to take than the dildo, he decided to give it a shot. With loud moaning and some tension, he showed that he was not enjoying it. The moaning starts to change, however, and before you know it Eric shoots this big load all over his chest. Then, Dex continued to fuck him but Eric doesn't want it any more. Dex pulled out and then tried to shoot his load all over his chest; however, Dex was nervous still and had to sit back on the couch to concentrate. He increased his speed, and then all of a sudden blew this huge load of cum on his chest.

Both these boys are hot, and did an amazing job for their first time in front of the camera. Eric tried a lot of new things for the first time today, with a little money involved to move things along. I think that we could be seeing both of these guys again.