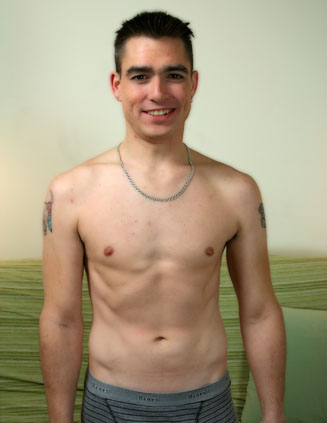 Let me introduce you to one of our newest models, Kyle who is 19, and very broke. At the shoot we were talking about how he made his money, and a couple nights a week he would bar-back at a night club. But, the money that he made was only enough to pay for gas and smokes. That's why he still lives at home with mom with no rent to pay. I asked him if mom had any idea of what he was doing at the studio, and he had told her that he was setup a new club that was going to open. Kyle is straight, and said that he had a couple of friends that were gay tell him about the site and how it works. They knew that he needed to make some money, so that was when he decided to check Broke Straight Boys out. He has never messed around with any of his guy friends before, however it sounded like he was open-minded and needed money so a possibility.

I explained to Kyle that he was going to do a casting couch to see how well he does in front of the camera. Then, from there we could look at putting him in more work if he is able to get hard and put on a good show. The first thing that I had him start with was removing his shirt. Kyle stood up, and pulled the shirt over his head. Standing in front of me, he was in good shape, and appeared that he spent some time in the gym. However, he said that he doesn't really work out every week. Kyle's skin was almost as pale as a ghost. I told him that he needed to start spending some time outside to get some kind of a tan going. In the winter months however, even though it might be somewhere in the 70s, that's still cold to the people that live there year round.

Kyle tends to show some redneck qualities living in Northern Florida, near the swamp land. Showing me both arms each one had a tattoo on it. Going through a couple of Kyle's stats, he is 5'8", 140 lbs, and his feet are around a size 10. Taking off his pants, he placed them to the side and stood there in his boxers. I had him pull down his boxers, exposing his bare butt to the camera. For fun, I had him slap his ass a couple of times, to show us his ass giggling as if someone were pounding it. Taking off his boxers, Kyle took a seat on the couch and started to play with his cock. The first thing that I noticed was that he didn't trim or shave any of his pubes. He said he didn't like the chaffing that shaving caused. Using some lube he played with his dick while he watched some porn on the TV. Kyle remains single, but did date a girl for eight months before they broke up. With him considering doing porn, he decided to put any relationships on hold so that he didn't have to explain the whole porn thing to them.

Stroking his dick, he was rock hard and pointing right up. Once Kyle readjusted himself on the couch to a more comfortable position to the side, I knew that he was concentrating on what he was doing. Instead of using his whole hand to jerk off, he used two fingers to slide up and down his cock. His other hand would rub his chest, and cup his balls from time to time. As the speed changed in his stroking, so did his breathing, giving me the signal that he was about to blow his load. I stood ready for him to go at any moment, listening to him moan. With one quick shot, he came shooting a huge stream of clear cum on the back of the couch. Before the shoot he had warned me that he was a shooter. That was a great cum shot! Kyle seemed very comfortable, so I figured that he would be interested in doing some more shoots. Sure enough Kyle said that we could talk some more about what kinds of things would be possible. I will see what I can work out to get Kyle to come back to star with another guy.