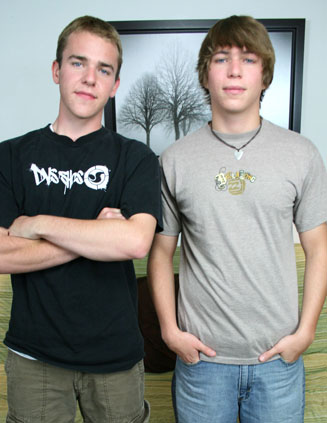 I asked Robert and Alden if they would start off by telling me how they heard about us, and got started. Alden chimed in first by saying that he had a buddy Luke do a shoot with us to make some quick cash and thought that it was a great idea he started to share. Alden wanted to make the kind of money that Luke was doing about, the only caught was that the work was going to be with other guys. There were going to be new boundary lines to cross, but Alden figured that if things went slow he would just go at his own pace. Everything was the same for Robert as well, and so the two of them have done oral together in a shoot. I asked if they would be wiling to consider doing more and they told me to just bring it up when they came in for the shoot. I told them that I wanted to see them fuck, and that I would pay them $1600 to do the shoot. Both of them have fucked girls before and even done anal with girls. The only thing that we had left to discuss was who was going to be the bottom.

Robert decided that he was going to be the bottom while I was on a phone call that interrupted the shoot. That was great, because they got to pick what they would do on their own. I had them start to get undressed and told them that we would start with the things that they were familiar with. Both guys stripped off their shirts, and then I had them work on undressing each other. Robert took off Alden's shorts first and started to touch his cock on the outside of his underwear for a moment before taking them off. Playing with his dick, Alden wasn't getting hard, so Robert took the next step and began to give him head. Robert used a combination of his hand and mouth, and it seemed to work right away. Alden was hard, and moaning from the blow job. It seemed like Alden was good to go, so I told him to take off Roberts pants. He undressed him just the same as Robert had done, but when the underwear came off Robert had a hard on.

Alden gave his buddy a favor and started to give him head. The two were doing a very good job together trading off and keeping one another hard. After a while I told them that we should open up the futon, and break out the condoms. This was going to be the first time for Robert getting fucked by a guy. Alden placed his hand on Robert's back and told him to relax. They were really being respectful of each other, and taking it easy. Alden said that Robert's hole was really tight and hard for him to move in and out of. When Robert seemed to not be in any pain, Alden started to pick up the speed and go a little faster. Pounding into Robert's ass, and making it shake with the motion. Robert changed positions to get on his back, and Alden held his legs up in the air. As they worked back to getting into some kind of a rhythm again, we were able to see that Alden was able to pull his dick out a little more. Alden lost his hard on at one point.

The two of them were getting close to cumming, so Alden pulled out and took the condom off. They both jerked off and were stroking at the same rate, and I knew they were close to getting off. Alden shot his load all over Robert's chest, stomach, and cock. Robert wasn't able to get off right there, so Alden started to use a toy on Robert's ass to keep him in the moment. Robert came on his lower stomach, and had a pretty big size load as well. Both guys seemed to get more comfortable with the shoot as it went on. I told them that my plan next was to get them both into an orgy scene. Neither one didn't know if they would be down, but liked the sound of more money. We will have to see what I can get setup for these hot, straight, semi-virgin boys next.