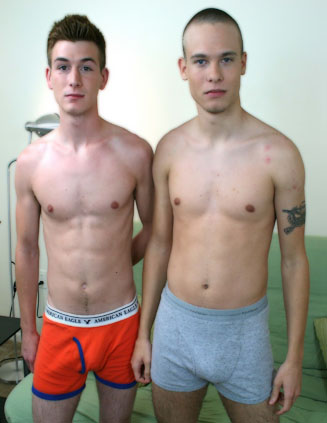 I decided to bring back Drew to do a shoot with us. When he arrived I started out with him on the couch, and had him remind the viewers a little bit about himself. Drew is 19 years old, bi-sexual, and happened to be on his third shoot with us. He has done a solo scene, and then an oral scene. At the time of the oral shoot he didn�t want to go as far as doing anal, however for the shoot that I brought him in on doing I wanted him to go that far for us. When talked on the phone to setup the shoot and I told him that I really needed something more to happen or I just wouldn't be able to give him more work. His response was that if he got to pick the person than that would seal the deal. I asked him if he had someone in mind to pair him up with and he said Corey. After the oral shoot him and Corey went out for a few beers, and seemed to talk about work together more. When I talked to Corey about doing the anal shoot with Drew he was down for the idea, because it was another chance for him to do a shoot. When Corey arrived for the shoot I had him wait in the backroom until I called him out, just so that I could talk to Drew on camera first.

Calling Corey into the room he took a seat on the couch next to Drew and confirmed everything. I ask Drew if he ever had girls play with his ass before, and he said yes. However, this was going to be the first time for a dick to actually go into his ass. As soon as we got pay out of the way, the two boys were ready to get started. I had them start with taking off their shirts. Drew was the first one to get down to his underwear, and Corey was soon to follow. Both reached inside their underwear to play with their dicks to get them hard. After a few minutes I asked Corey if he would give head to Drew, and he didn't put up a fight. Leaning over he took Drew's cock in his mouth, and got the cock rock hard from the oral. In switching, Drew seemed to be a little better at giving the head, and was deep-throating most of the time. Corey seemed to be watching Drew give him head most of the time, and when Drew's head would get in the way Corey would tilt his head in the other directions. The two seemed to be hitting it off really well, and so when I asked if they were ready to start fucking I got a yes.

Changing the couch into a bed, the two got themselves ready by putting on lube and a condom. Starting out doggie-syle, Drew seemed to be getting nervous for the fucking to start. Corey pushed his dick inside Drew's tight hole inch by inch to slowly work his way inside. He took his time, but once he was all the way in he started to pull out and push back in a little faster. Working his way up to a pattern Corey seemed to be enjoying it, and Drew was hiding his face a little bit to not show the pain. Corey even slapped Drew on the ass once in the heat of the moment leaving a nice red hand print on his ass. Switching positions Drew got on his back and Corey was able to get his dick in Drew's ass much easier this time to get back to where they were in the fucking. Drew started to moan a lot more, and that was caused Corey to get turned on and to fuck faster. I saw Drew try to reach up and slow Corey down, but Corey put his hands on top of Drew's to hold them down.

All of a sudden Corey pulled out and whipped the condom off. Jerking his cock off really fast he threw his hips forward and shot his load all over Drew's stomach. I noticed that some of the load got on Drew's balls. Drew was now stroking his dick to get off, and it took a minute or so, but he came shooting his load all over his stomach as well. The two guys did a good job, and Corey was tired from all the work he did, so he was trying to lay down next to Drew on the bed to finish talking to the camera. I asked Drew if he did the shoot for the experience or the money. His response to me was that it was meant for the experience; however the money was a nice perk as well. The both of them got cleaned up, and we hope to see back here on Broke Straight Boys.